Arizona: Wallow wildfire nears Luna in New Mexico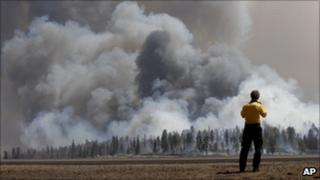 The wildfire that has consumed swathes of the US state of Arizona has begun to threaten neighbouring New Mexico.
Firefighting efforts are now focussed on the western New Mexico town of Luna, lighting controlled fires to reduce fuel available to the blaze.
The northern front of the 708 sq mile (1,828 sq km) Wallow fire has been largely contained.
Winds were expected to pick up on Monday night, potentially hindering firefighting efforts, officials said.
As firefighters began slowly to wrest control of the fire, residents who evacuated the Arizona towns of Eagar and Springerville have been allowed to return.
The fire has been burning for more than two weeks and is the second-largest in Arizona's history.
Despite its historic size, the fire has destroyed only 31 homes and four commercial buildings, the Associated Press reported.
About 2,500 firefighters have fought the blaze, some coming in from as far away as New York.
The Wallow fire is the second largest on record in Arizona - a blaze in 2002 burnt through 732 sq miles in the centre of the state.
Meanwhile, another wildfire sprung up at the weekend outside the town of Sierra Vista.
The fire near the Mexico border was first reported on Sunday afternoon and has charred 4.7 sq miles (12 sq km).
About 100 residents were served evacuation notices by Sunday night, the Arizona Daily Star newspaper reported.