Anthony Weiner 'to seek help' after lewd photos scandal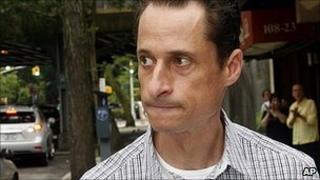 A New York congressman who admitted sending lewd photos of himself to women says he wants a leave of absence to seek professional treatment.
The announcement came hours after senior US Democrats called for Anthony Weiner to resign.
Mr Weiner has admitted "inappropriate" communications including sending a photo of his crotch to an admirer.
He has been regarded as a rising star in the Democratic Party and a strong candidate for New York City mayor.
He has previously said he will not resign over the scandal.
A statement from Mr Weiner's spokeswoman, Risa Heller, said he will seek professional treatment and will focus on "becoming a better husband and healthier person".
She said Mr Weiner wanted the leave of absence so he can be evaluated and work out a course of treatment. The statement doesn't say what he would be treated for.
Earlier, Democratic National Committee chairwoman Debbie Wasserman Schultz said the "sordid affair" had become an "unacceptable distraction".
"It is with great disappointment that I call on Representative Anthony Weiner to resign," she said in a statement.
"The behaviour he has exhibited is indefensible and Representative Weiner's continued service in Congress is untenable."
Nancy Pelosi, Democratic leader in the House of Representatives, said Mr Weiner had recognised that he "needs help".
"I urge Congressman Weiner to seek that help without the pressures of being a member of Congress," she said.
Congressman Steve Israel, chairman of the Democratic Congressional Campaign Committee, also called for Mr Weiner to go, saying: "With a heavy heart, I call on Anthony to resign."
Online flirtations
Mr Weiner, who is married, originally claimed that someone had hacked into his Twitter account to post a photo of a man's crotch in grey underpants.
However, he later admitted to online flirtations in an emotional press conference.
He said he had exchanged messages and photos "of an explicit nature" with about six women over three years.
On Friday he acknowledged that he had made online contact with a 17-year-old girl but said nothing inappropriate had taken place.