Merkel and Obama talk up US-German friendship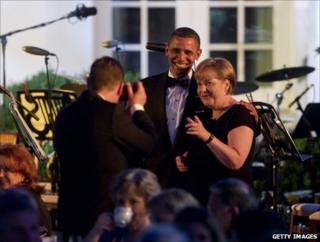 Angela Merkel and Barack Obama have smoothed over policy differences at a lavish reception the US president gave to the German chancellor in Washington.
"Europe and Germany have no better partner than America," Mrs Merkel told Mr Obama, who said the US alliance with Germany was "indispensable".
Disagreements over Libya and economic policy did not cloud the day.
The Obamas gave their first al fresco state dinner, with Mrs Merkel receiving the Presidential Medal of Freedom.
President Obama said she deserved the award because of her remarkable career, growing up in communist East Germany and going on to become the first woman and first East German to become chancellor of a unified Germany.
"She represents the unification of Europe through her own life story and the capacity to overcome the past and point towards a brighter future," he said at a joint news conference with Mrs Merkel at his side.
Even the dinner music was chosen to emphasise the buddy theme: Grammy Award-winner James Taylor confirmed, as he arrived, that it had been "specifically suggested" he play his 1971 hit You've Got a Friend.
"That's sort of the theme of the evening," the singer told the Associated Press news agency.
'Fun to work together'
The two allies do not see eye to eye on everything, the BBC's Kim Ghattas reports from Washington.
The US was upset by Germany's abstention at the UN vote on Libya, and Germany has been disappointed by the Obama administration's inability to deliver on the Middle East peace process.
While Germany favours fiscal austerity, President Obama has opted for more government stimulus spending.
Mrs Merkel denied the visit was intended to repair strained relations over Libya.
"In my view, we're partners who support what others do not just in spirit but with everything we can bring to the table so that together we can be successful," she said.
"I think this is a lovely reception and a continuation of German-US relations and a good starting point for all future challenges."
Mr Obama praised Mrs Merkel's "pragmatic approach to complex issues", saying: "It's just fun to work together."
'Full co-operation'
Mr Obama has previously said that the problems affecting the eurozone are one of a number of foreign "headwinds" affecting the US economy.
On Tuesday, he expressed sympathy for the political difficulties eurozone countries faced in helping struggling fellow member states.
"I'm confident that Germany's leadership, along with other key actors in Europe, will help us arrive at a path for Greece to return to growth, for this debt to become more manageable," he said.
He said the the EU's soaring debt crisis could not be allowed to threaten the global economy.
"We have pledged to co-operate fully in working through these issues, both on a bilateral basis but also through international and financial institutions like the IMF."
The two leaders called one another "Dear Barack" and "Angela".
"You look lovely tonight," Mr Obama told his guest who came to dinner in a black gown in contrast to her customary trouser suits.