Arizona Wallow Fire triggers more evacuations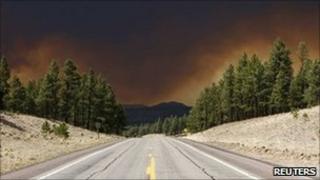 More people are being evacuated from the path of a huge fire in the US state of Arizona as it rages out of control for a ninth day.
Remaining residents in the picturesque town of Greer have been ordered to leave and the 7,000 residents of Eager and Springerville have been told to prepare to evacuate.
Gale-force wind gusts are hampering some 2,300 firefighters struggling to contain the blaze.
Smoke is visible in six states.
The so-called Wallow Fire, which was first reported on 30 May, has now consumed 233,522 acres (365 sq miles; 945 sq km) according to a clickable map on the Arizona Republic website, and is the third largest fire in the state on record.
Several towns have already been evacuated and most of the 200 or so full-time residents of Greer had already left.
Those remaining were ordered to evacuate on Monday afternoon.
'Numb'
"It's heartbreaking," Allan Johnson, owner of the 101-year-old Molly Butler Lodge in Greer, told Associated Press news agency.
He was pessimistic about the chances of saving the lodge and the hundreds of holiday homes in the area.
"We're numb - our entire family and our friends are just numb," he said.
The residents of the twin towns of Eager and Springerville are preparing to evacuate, and over the border in New Mexico residents of the town of Luna are on similar alert.
Firefighters - drafted in from as far away as New York - are being hampered by winds of about 30mph (50kph), with gusts above 60mph (100kph).
As of Monday no progress had been made containing the blaze but it was hoped some gains would have been made by Thursday or Friday, said Matt Benson, a spokesman for Arizona Governor Jan Brewer.
"It's entirely dependent on weather conditions in that part of the state right now," he said.
A state of emergency has been declared in the counties of Apache and Greenlee.
This is the third largest fire on record in Arizona - though both of the other bigger fires have occurred in the last decade.
A blaze in 2002 burnt through 732 sq miles in the centre of the state and another in 2005 that scorched 387 sq miles near Phoenix.
As well as Arizona, smoke is said to be visible in New Mexico, Iowa, Nebraska, Kansas and Colorado - where some municipal health departments have issued air-quality warnings.
Meanwhile, another wildfire is burning in south-eastern Arizona and threatening two small communities.
A thousand firefighters are tackling that blaze, which is listed as 55% contained, reported Reuters news agency.