Dominique Strauss-Kahn: Ex-IMF boss changes housing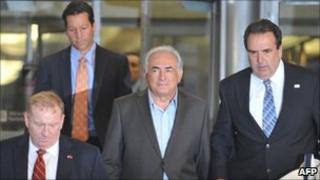 The former head of the International Monetary Fund (IMF) has been moved to a new, more permanent location in New York City where he will await trial on sex assault charges.
Dominique Strauss-Kahn was reportedly moved from lower Manhattan to a townhouse about one mile (1.6km) away.
A lawyer for Mr Strauss-Kahn said on Wednesday his client was "very bored" under house arrest.
Mr Strauss-Kahn has denied charges of attempting to rape a hotel maid.
'Plush' townhouse
Mr Strauss-Kahn, who resigned last week as the head of the IMF, was seen smiling as he left the high-rise building where he had been staying, which is owned by the security company managing his home detention.
The French presidential contender, who is free on $1m (£618,000) bail, moved from New York's financial district into a plush, four-bedroom townhouse in the city's Tribeca neighbourhood, the Associated Press news agency reported, citing an unnamed source.
Mr Strauss-Kahn is under 24-hour guard and wears a monitoring bracelet.
His wife attempted to put him in a luxury building in another area of Manhattan last week, but those efforts were squashed when residents of the building complained.
Mr Strauss-Kahn, who has no prior criminal record, spent several days in jail on Rikers Island following his arrest on 14 May.
He is charged with seven counts including four felony charges - two of criminal sexual acts, one of attempted rape and one of sexual abuse - plus three misdemeanour offences, including unlawful imprisonment.
His accuser is a 32-year-old originally from Guinea in west Africa who reportedly told authorities that Mr Strauss-Kahn had accosted her after she entered his hotel room to clean it at the Sofitel near Manhattan's Times Square neighbourhood.
Mr Strauss-Kahn, 62, denies the allegations and on 6 June is set to enter a formal plea.