Kathy Hochul wins special election on 'Medicare vote'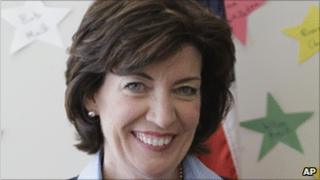 A Democrat has won an upset victory in a traditionally Republican House constituency in the state of New York.
Kathy Hochul defeated Jane Corwin in a special election seen by analysts as a referendum on a Republican proposal to overhaul the Medicare health programme.
The district in western New York had been held by Republicans for decades.
Democrats hope the result illustrates wider voter distaste for Republican plans to cut entitlement programmes as a way to reduce the federal deficit.
Republicans had presented their plan to revamp the Medicare programme as a necessary budget-cutting effort.
Ms Hochul, the Erie County Clerk, won with 47% of the vote to 43% for Ms Corwin, a Republican state legislator. A third candidate, wealthy conservative Jack Davis, took 9%.
The seat became empty in February when Republican Christopher Lee resigned after it emerged he had sent photographs of himself shirtless to a woman he had met on the internet.
Since winning control of the US House of Representatives in November, largely by promising to reign in government spending, the Republican Party has united behind a proposal to dramatically reform the Medicare healthcare programme for older Americans by requiring programme participants to pay more for care.
The party said the changes were necessary to control spiralling cost increases.
Ms Corwin backed the plan, and Ms Hochul made criticism of that support a centrepiece of her campaign.
Ms Hochul's tactic appeared to work, with large numbers of Republican voters crossing party lines to back her.
Republicans still maintain a significant majority in the House of Representatives, but analysts say party leaders may have to reassess how they use their Medicare proposal in the 2012 campaign.