Canada imposes sanctions on Syrian leaders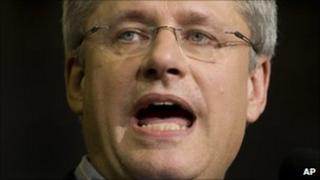 Canada has announced economic sanctions would be imposed against members of the Syrian government in response to the country's crackdown on protesters.
The sanctions will prevent Syrian leaders from travelling to Canada and ban some trade between the two nations.
Prime Minister Stephen Harper said he was "gravely concerned" about Syria's use of force against its people.
The US and EU have already imposed sanctions against Syrian President Bashar al-Assad.
The Canadian sanctions against Syrian leaders will also directly target Mr Assad and other high-ranking members of his regime.
The move is largely being seen as symbolic, as Canada only exports roughly $60m (£40m) worth of goods annually to Syria, and receives a fraction of that in imports.
"Canada is gravely concerned at the excessive use of force by the Syrian regime against its own people, which has reportedly resulted in the deaths of hundreds of civilians and the detention of thousands more," Mr Harper said in a statement.
Foreign Affairs Minister John Baird said on Tuesday the "abhorrent crackdown" on protesters must end.
The Canadian sanctions against members of the Syrian regime include:
A travel ban to Canada imposed on designated people associated with the current Syrian regime
An asset freeze against those associated with the Syrian government and others involved in security and military operations against the Syrian people
A ban on the exports of certain goods and technology, including military, nuclear and strategic items intended for use by armed forces
A suspension of all bilateral co-operation agreements and initiatives with Syria
On Wednesday, Mr Harper will travel to the G8 summit in France, where international leaders will engage in a special session to discuss the implications of the unrest in the Middle East and North Africa.
Syria denounced the sanctions imposed on Mr Assad by the EU on Monday, saying the measures would "harm the Syrian people".