Armstrong team-mate Hincapie joins doping accusers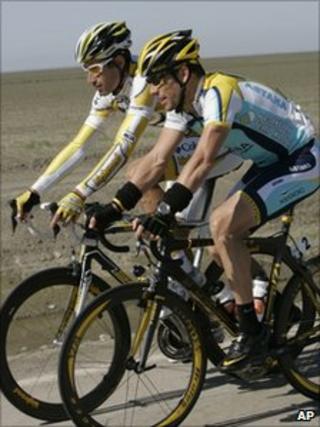 Another team-mate of cyclist Lance Armstrong is reported to have said he used performance-boosting drugs.
George Hincapie, whom Armstrong once described as being "like a brother", would be the latest former team member to testify against him.
CBS News said Hincapie had told officials he and Armstrong had supplied each other with EPO before races and discussed using testosterone.
Armstrong has consistently denied the allegations against him.
Earlier this week he wrote on Twitter: "Never a failed test. I rest my case."
Hincapie was considered one of Armstrong's most loyal team-mates on the US Postal team, and rode alongside him in all his seven Tour de France victories.
But the CBS programme 60 Minutes claimed he had testified to a US federal investigation into doping that he and Armstrong had taken EPO together.
Hincapie declined to take part in the programme, but told reporters it was "unfortunate that that's all people want to talk about".
"I want the focus on the future of the sport, what it's done to clean itself up. I believe in cycling and want to support it."
He then released a statement through his attourney, stating: "I can confirm to you that I never spoke with 60 Minutes. I have no idea where they got their information.
"As for the substance of anything in the 60 Minutes story, I cannot comment on anything relating to the ongoing investigation."
The claims come a day after Tyler Hamilton said he and Armstrong both used EPO during the 1999 Tour de France.
"I saw [EPO] in his refrigerator. I saw him inject it more than one time like we all did," Hamilton told the programme. "Like I did, many, many times."
Hamilton, 40, served a two-year ban for so-called blood-doping from 2005-07.
An Armstrong spokesman dismissed the allegations, and accused Hamilton of seeking publicity.
Last year, Floyd Landis - who rode in the US Postal team for several years - also launched a series of similar allegations against Armstrong.
Erythropoietin (EPO) is a hormone naturally produced by the kidneys. It is injected under the skin to stimulate red blood cell production, and its overall effect is to increase endurance.
Armstrong won the Tour de France for seven consecutive years from 1999-2005. He retired following the last of those triumphs.
The Texan returned to ride in the 2009 race and finished in a creditable third place. He competed in it again in 2010 but could only manage 23rd, although he helped his RadioShack team win the team competition.
Earlier this year, the 39-year-old announced his retirement from competitive cycling.