Mississippi River closed after barge sinking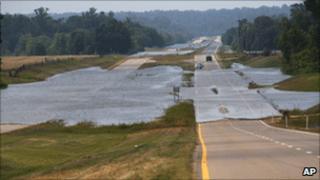 The US Coast Guard has closed a five-mile stretch of the swollen Mississippi River after three barges sank.
They were being pulled by tug boats when they broke loose near Baton Rouge, Louisiana, officials said. A fourth barge broke loose but was captured.
No injuries or pollution was reported, officials said.
The river has been experiencing record flooding in recent weeks, but officials said they were unsure if that contributed to the accident on Friday.
The high water has made navigating the river, one of America's most trafficked, hazardous.
The river is filled with debris and the fast-moving current has been complicated by powerful eddies and white caps.
"You ask me, they should close it down altogether," Jerry Batson, captain of the tug Gladys Batson, told the Associated Press. "It's awful risky for any vessel."
The river was expected to crest at Natchez, Mississippi on Saturday at 61.8ft (18.8m), more than three feet above the record crest set in 1937.
Authorities last weekend opened a spillway in southern Louisiana to take pressure off levees protecting Baton Rouge and New Orleans.
More than 3,000 people have evacuated from flooded parishes in southern Louisiana.
The river is not expected to recede to normal levels until mid-June.