Pressure heaped on Netanyahu for Washington visit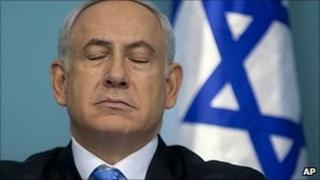 In many ways the Israeli Prime Minister, Benjamin Netanyahu, should be a man content with his lot.
He is on a high-profile visit to Washington where he will be met with a firm handshake and warm words from President Barack Obama.
In a historic address to a joint-session of Congress next week, he can expect to be repeatedly applauded as he describes how his government tirelessly searches for peace.
And at the annual conference of Aipac (the American pro-Israel lobby) he will be feted as a hero and beacon of light in an otherwise hostile region.
But at home, in a dramatically changing Middle East, the Israeli leader appears increasingly out-manoeuvred and out of step with the attempts of others to resolve the frustrating and long-standing stalemate in the Israeli-Palestinian conflict.
When the largely secular and moderate Palestinian Fatah movement, which runs the Palestinian Authority in the West Bank, announced last month that it was burying the hatchet with the Islamist Hamas organisation to form a government of national unity, Mr Netanyahu must have thought a windfall had come his way - all of this on the eve of his visit to Paris and London.
How could Israel trust and negotiate with Palestinian "terrorists" (Hamas) who vow to fight for the destruction of the Jewish state?
Palestinian President Mahmoud Abbas had a clear choice between Hamas or peace and he had chosen wrongly, came the message from the Netanyahu government.
That was a message Israel would take to the wider world.
Personally criticised
But Mr Netanyahu is finding a world - at least that one beyond the friendly confines of the forthcoming Aipac conference in Washington - in which Israel is increasingly isolated and he is personally criticised by famously acerbic commentators at home as "irrelevant" and short on ideas.
In London and Paris, for example, the Israeli delegation found European administrations prepared to give Palestinian unity a chance.
Of course, they said, Hamas must renounce violence and not undermine international peace efforts, but the principle of a united Palestinian position seems entirely logical, even desirable, to many in Europe.
Mr Netanyahu had previously singled out Palestinian disunity as a sign of weakness - one reason why his protestations sometimes fall on deaf ears, even in Israel.
If the Palestinian unity project holds together - and that is still a very big "if" - Mr Netanyahu faces an even bigger crisis. He could be left floundering while much of the world embraces what will be presented as fresh initiatives from the Palestinian side.
Earlier this week Mr Abbas made it clear that, if peace talks do not resume, he would go to the UN in September and seek international recognition for an independent Palestinian state.
In his landmark address on Thursday, President Obama warned the Palestinian leadership that such a move would not work. He also acknowledged that the Fatah-Hamas agreement raised legitimate concerns for Israel.
But, increasingly, the Palestinians seem like the ones making the running. Life looks difficult for Mr Netanyahu's right-wing coalition and there is even greater pressure on Israel over issues like illegal Jewish settlements on occupied Palestinian land.
It is not just the Palestinians who are making the Netanyahu government look ill-prepared and behind the curve.
Israel has long presented itself as the only true democracy in an otherwise undemocratic region, dominated by corrupt or authoritarian regimes.
Yet the Netanyahu government has been caught almost frozen in the headlights by the dramatic developments of the Arab Spring.
Rather than embracing and openly supporting calls for greater democracy in Egypt, Libya or Syria, Israel has at times appeared to be fearful of change - betraying a preference, some critics say, for secular Arab strongmen over the nascent, pro-democracy reformists.
Ultimately, perhaps Benjamin Netanyahu is right to be cautious.
No-one knows if the Fatah-Hamas deal will hold. Neither of the Palestinian factions has shed much light on how they hope to resolve the many fundamental issues and differences between them.
Nor does anyone have any inkling if the Arab Spring will deliver genuine secular democracies, determined not only to reform their own corrupt systems, but also to embrace the state of Israel as a legitimate partner.
Israel has perhaps fought too many wars with the Palestinians and its Arab neighbours to throw open its arms with a welcoming smile just yet.
Mr Netanyahu's political opponents and his critics in the press are desperate to see some considered and credible policy initiatives - both on the Palestinian front and for the Arab world.
Perhaps that will come before more receptive audiences in Washington this week.
If, however, the arguments are old, tired and not bold enough to challenge Israel's isolation, Mr Netanyahu will return from the US to an even more febrile political atmosphere.
1967 ceasefire lines
President Obama said he believes a future Palestinian state should be based on the 1967 ceasefire lines - with agreed land-swaps that could keep some of the bigger settlements under Israeli control.
That stance has already been roundly rejected by right-wing politicians and settler leaders in Israel - Benjamin Netanyahu said he would seek reassurances from the president but clearly didn't like what he heard.
Barack Obama, who will also address the Aipac summit next week, is unlikely to apply too much more arm-twisting for now.
But if he wins a second term, many analysts say an unshackled Mr Obama may return to the theme of Middle East peace and tighten the screw on Israel - and the Palestinians - if he thinks he can succeed where so many previous US leaders have tried and failed.
Israel's leaders also have some tough choices to make because in 10 or 20 years time, the facts and mindset on the ground may be so entrenched and immovable that a two-state solution, Israeli and Palestinian states living side-by-side, may no longer be feasible or realistic.
A leader who sometime appears to have his head buried in the sand showing all the signs of inactivity and indecision, while others around him take the initiative is the last thing Israel needs right now.