A national trauma: France, Strauss-Kahn and US justice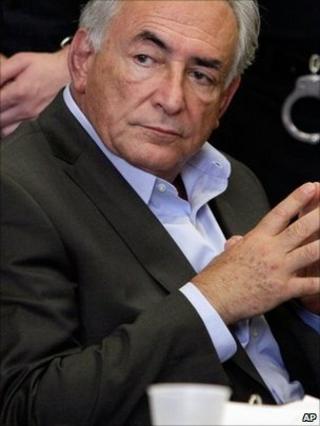 The arrest and incarceration of former IMF chief Dominique Strauss-Kahn have provoked a national trauma in France far deeper than anyone could have imagined.
And it is the pictures that did the harm.
Video footage of Mr Strauss-Kahn emerging in handcuffs from a Harlem police station has been repeated endlessly on TV channels.
His haggard features stare out from every newsstand.
A new photograph - an almost unrecognisable headshot of Mr Strauss-Kahn in prison clothes - will certainly cause even greater shock.
Remember this was a man last photographed getting out of a Porsche in central Paris two weeks ago.
Presidential candidate
He was not just a likely presidential candidate, he was a likely next president.
For the social commentator Sophie de Menthion: "The whole nation - all political parties and all social classes - has just stood there aghast.
"Thanks to the new technologies, we are watching, in real-time, an event unprecedented in the history of humanity - a man's condemnation to death by media.
"It creates feelings and reactions which go far beyond what is, essentially, after all just another minor alleged crime."
The most traumatised have been Mr Strauss-Kahn's friends on the left of French politics. Their reaction is one of sheer pain.
Jean-Francois Kahn, a left-wing journalist, said he was being "ripped apart inside" in a way he had never felt before.
He made the comment on his blog to explain away previous remarks on a radio interview.
'Unheard-of brutality'
Asked what he thought had happened in the New York hotel room, he said it could not have been attempted rape: "More likely an act of imprudence, a bit of domestic tupping."
If other Socialist friends have been more circumspect about the alleged act, they are unanimous in their condemnation of the way Mr Strauss-Kahn has been treated in the US.
Former Minister Elisabeth Guigou said the images of her friend being led from the police station were of an "unheard-of brutality, cruelty and violence".
Party leader Martine Auby is reported to have broken down in tears.
But it was the media intellectual Bernard-Henri Levy who went furthest, delivering an anti-American diatribe in his weekly column in Le Point magazine.
"All I know is that there is nothing in this world that permits a man to be thrown to the dogs in this way.
"And I feel nothing but loathing for the judge who delivered him to that pack of newshounds in front of the police station, on the pretence that he was a citizen like any other."
National trauma
Mr Levy even said the whole story about the attempted rape sounded fishy, because in his experience chambermaids in top New York hotels never work alone, but in teams - a claim that has been roundly denied in the US blogosphere.
The Socialists are caught in an anguished dilemma. They do not want to abandon a man they know and admire.
But if the charges are upheld, they will have to find the words to condemn him.
Already, the feminist wing of the party is angry that so far the pain is all Mr Strauss-Kahn's - and none of it his alleged victim's.
But it is not just the Socialists who have been transfixed by the Strauss-Kahn story.
His treatment by the New York judge, police and press has reawakened the anti-Americanism that is latent in many French souls.
People who certainly condemn the alleged crime, also condemn what they see as vindictive, cowboy-style justice.
And, above all, they condemn the images.
Such humiliating pictures would never be taken in France - indeed the law bans "degrading" photographs of prisoners awaiting trial.
But, more poignantly, the images are of a man who just one week ago was about as high as a man can be in the eyes of the world.
From that, to this. It is a deeply unsettling sight, and therein lies the national trauma.