Unabomber Kaczynski: Police probe Tylenol link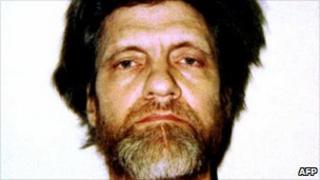 The US killer known as the Unabomber, Ted Kaczynski, has been asked to supply a DNA sample to police investigating the Tylenol poisoning which killed seven people in 1982.
The 68-year-old was jailed for life in 1998 after killing three people and wounding 23 others in a string of bombings over 18 years.
Chicago FBI said that a "re-examination of the evidence" had prompted the move.
Pain relief pills Tylenol were laced with cyanide, prompting a huge scare.
There was a huge recall of capsules from the shelves of pharmacies across the US.
In a statement on Thursday, Cynthia Yates of the FBI in Chicago said: "As part of our re-examination of the evidence developed in connection with the 1982 Tylenol poisonings, we have attempted to secure DNA samples from numerous individuals, including Ted Kaczynski.
"To date, Mr Kaczynski has declined to voluntarily provide this sample.
"The investigation into the Tylenol murders remains ongoing. No arrests have been made and no charges have been filed."
According to one report, Kaczynski has now agreed to the DNA request, but this has yet to be confirmed.
Kaczynski was dubbed the "Unabomber" because his early targets were universities and airlines. He was eventually turned in by his brother.