Strauss-Kahn case: Europe backs EU candidate for IMF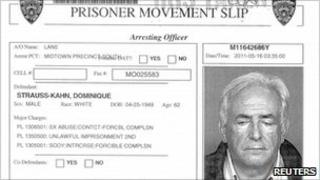 Leading voices in Europe say another European should head the International Monetary Fund (IMF) following the resignation of Dominique Strauss-Kahn.
Germany's Angela Merkel and European Commission President Jose Manuel Barroso's comments come amid debate over whether the next IMF chief should come from the developing world.
Ms Merkel said a European was needed in light of the eurozone's problems.
Mr Strauss-Kahn is in jail in the US, accused of trying to rape a hotel maid.
He denies the charges and arrived at court in Manhattan on Thursday morning to make a fresh appeal for bail. His first application was rejected on Monday.
His wife, Anne Sinclair, arrived for the hearing shortly before the scheduled start time of 1815GMT.
Mr Strauss-Kahn had been coming under mounting international pressure to leave his post amid the furore over his arrest.
In a statement posted on the IMF website late on Wednesday, he said he resigned with "infinite sadness", but wanted to "devote all my strength, all my time, and all my energy to proving my innocence".
Mr Strauss-Kahn's deputy, John Lipsky, has been placed in interim control of the organisation, and the IMF says it will release information "in the near future" about the appointment of a permanent successor.
'Only natural'
Analysts say a battle is looming over who will head the IMF amid growing calls for it to reflect the growing power of emerging economies.
But Mrs Merkel - who leads Europe's biggest economy - said she was in favour of another European candidate.
"Of course developing nations are within their rights in the medium term to occupy the post of either IMF head or World Bank chief," she said according to AFP news agency.
"But I think that in the current situation, with serious problems with the euro and the IMF strongly involved, there is a lot in favour of a European candidate being put forward."
A spokeswoman for Mr Barroso was quoted as saying it was "only natural that the member states of the European Union, as the biggest contributor to the fund, agree on a strong and competent candidate who can rally support from the IMF membership".
She said talks were likely to identify a "strong European candidate".
But South Africa, Brazil and Mexico are among developing nations urging the IMF to abandon the tradition of reserving the post for a European - with Brazil saying that era is "over".
US Treasury Secretary Timothy Geithner said on Thursday: "We want to see an open process that leads to a prompt succession for the fund's new managing director."
A Chinese government spokeswoman said the selection process should be based on "merit, transparency and fairness", Reuters news agency reported.
She was quoted as saying "we believe that emerging and developing countries should have representation at senior levels".
However, the IMF's 24-member executive board votes to fill the top post, and the G7 established economic powers retain a majority on the board.
There is an array of potential candidates from around the world, but BBC economics editor Stephanie Flanders says she understands French Finance Minister Christine Lagarde would be hard to beat if she entered the contest.
Bail hearing
Mr Strauss-Kahn is accused of sexually assaulting a 32-year-old maid in New York's Sofitel hotel on 14 May.
The Frenchman is charged with committing a criminal sexual act, attempted rape, sexual abuse, unlawful imprisonment and forcible touching.
On Monday a judge in New York denied Mr Strauss-Kahn bail - despite the offer of a $1m (£618,000) guarantee - saying there was a risk the IMF chief would flee the country.
Judge Michael Obus will hear the new application.
A copy of Mr Strauss-Kahn's new bail plea, published on the website of the New York Times, shows Mr Strauss-Kahn's lawyers are offering new bail conditions they hope will convince the judge their client will not abscond.
The conditions include Mr Strauss-Kahn being confined 24 hours a day to a Manhattan address, subject to electronic surveillance.
Mr Strauss-Kahn has been remanded at the notorious Rikers Island prison.
One of his lawyers told French radio on Thursday that Mr Strauss-Kahn was in good health and optimistic, Agence France-Presse news agency reported.