Guantanamo Bay: Afghan prisoner 'kills himself'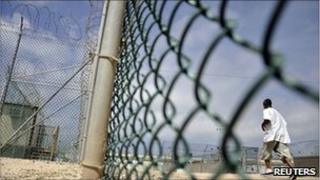 An Afghan prisoner at Guantanamo Bay has died in what the US authorities called an apparent suicide.
The prisoner, named only as Inayatullah, had been held at prison on Cuba since September 2007 on suspicion of being a member of al-Qaeda.
He is the eighth prisoner to die at Guantanamo Bay since the US began using the military base as a detention centre in January 2002.
Five of the previous deaths were declared suicides.
The other two were attributed to natural causes.
Confirming the latest death, the US military said in a statement that guards found the detainee "unresponsive and not breathing".
"After extensive lifesaving measures had been exhausted, the detainee was pronounced dead by a physician."
President Barack Obama pledged to close the camp as one of his first actions after taking office in 2009, but has so far failed to reach a deal.