Are the US sanctions to be imposed on Assad too late?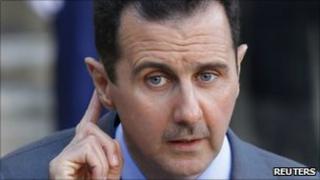 Many will welcome the US sanctions against Syria. But the fact that they are being imposed only now, weeks after the violence began and the day before a big speech by President Barack Obama on the Middle East, will leave some tearing their hair.
America won't improve its reputation for quick and decisive action in the Arab awakening. The administration's insistence on not punishing Syrian President Bashar al-Assad has puzzled foreign policy experts around Washington.
Regional rulers have made the US policy look awkward, an ill-fitting conjunction of realpolitik and idealism.
Friends get off lightly, enemies get their compounds bombed. But Syria doesn't fit this mould. It is not Bahrain or Saudi Arabia.
Mr Assad is not exactly an ally leading a friendly, helpful country. It seems Hillary Clinton believed he was a reformer hemmed in by hard liners, the best chance for change.
But as time has passed, the White House must have calculated that this is either nonsense, or Mr Assad can't break through the circle surrounding him.
The announcement is a curtain raiser for Mr Obama's big speech on the Middle East and North Africa on Thursday, but it only underlines how difficult it is turning similar events in different countries, with different complexities and US interests, into a coherent narrative.