Strauss-Kahn arrest: Maid 'scared but will testify'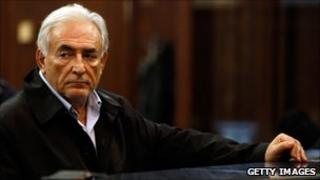 The maid who has accused International Monetary Fund (IMF) head Dominique Strauss-Kahn of sexual assault is "scared" but will testify against him, her lawyer says.
Jeffrey Shapiro says when the 32-year-old woman discovered Mr Strauss-Kahn's identity a day after the incident she feared for herself and her daughter.
He said there was "nothing consensual about what took place in that hotel room" in New York on 14 May.
Mr Strauss-Kahn denies all the charges.
They are committing a criminal sexual act, attempted rape, sexual abuse, unlawful imprisonment and forcible touching.
Mr Strauss-Kahn, 62, is currently on suicide watch at New York's infamous Rikers Island prison.
His lawyers have said they will ask again for bail at a court hearing on Thursday.
His wife, former French television interviewer Anne Sinclair, is thought to be visiting him in the next two days.
Police on Wednesday removed a piece of carpet from the Sofitel Hotel, where the incident allegedly took place, for forensic tests.
'Man of great power'
Mr Shapiro told NBC television that his client was expected to testify before a grand jury later on Wednesday.
He said she had only become aware of Mr Strauss-Kahn's identity "a day later when a friend called her to tell her, 'do you have any idea who this man is who did this to you?'".
Mr Shapiro said his client was "scared and incredulous".
"When she found out this encounter was with a man of great power and wealth she feared not only for herself but more importantly for her daughter."
The woman had now been reunited with her 15-year-old daughter in a "safe place", he added.
Mr Shapiro said she had tried to return to her home - a sub-let flat in the Bronx - but had found about 30 people waiting outside.
He said: "She has been in a whirlwind since this has taken place... She has not had a moment of peace, has not been able to return home or seek help.
"She doesn't know what her future will bring."
The woman came originally from the West African state of Guinea. She arrived in the US seven years ago with her daughter and had been in her job at the Sofitel hotel for three years.
Mr Strauss-Kahn's lawyer, Benjamin Brafman, said on Monday that the defence believe the forensic evidence "will not be consistent with a forcible encounter".
But Mr Shapiro said that "when a jury hears her testimony and sees her in person" it would become clear that "there is nothing consensual about what took place in that hotel room".
He said that his client had "no agenda" and believed it was her responsibility to follow the judicial process "and she will do that".
On Wednesday, detectives removed a section of carpet from the penthouse suite in search of evidence to support her allegation she was forced into an act of oral sex.
Support in France
Public opinion in France appears to be largely on the side of Mr Strauss-Kahn, who until his arrest was considered one of the leading candidates for the French presidential election next year.
An opinion poll for RMC radio, BDM television and the 20Minutes website found 57% of those who replied believed Mr Strauss-Kahn was the victim of a conspiracy.
That number rose to 70% among those who identified themselves as favouring Mr Strauss-Kahn's centre-left Socialist Party.
The philosopher Bernard-Henri Levy, a friend of Mr Strauss-Kahn for 25 years, has spoken out in his defence.
"Nothing in the world can authorise the way this man has been thrown to the dogs," he wrote on his blog.
"I do not know... how a chambermaid could enter on her own the room of one of the most watched people on the planet, against the normal practice in most big New York hotels, which provide for 'cleaning brigades' of at least two people."
But Mr Shapiro said: "The idea that someone would suggest she was involved in some form of conspiracy is ridiculous."
Meanwhile, US Treasury Secretary Timothy Geithner said Mr Strauss-Kahn was not in a position to run the IMF and an interim replacement should be named.
Since Mr Strauss-Kahn's arrest last Saturday, his deputy John Lipsky has been serving as acting managing director.