Pomp and substance for Obama's Britain visit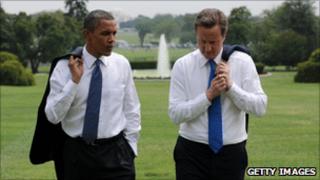 When President Barack Obama and the first lady visit London next week there will be pomp and pageantry aplenty.
The many Americans who seemed entranced by the royal wedding may be delighted that their president will be staying in Buckingham Palace, will be the Queen's guest of honour at a state banquet, and will get a tour of Westminster Abbey.
But it will be a time for serious business too.
The top of the list couldn't be more serious: Afghanistan. The prime minister and the president will be talking about making peace with the Taliban in Afghanistan and ending the fighting for British and American troops.
Senior Western diplomats in Washington say that the killing of Bin Laden could be a "pivot" that could give "extra vigour" to the quest for a political solution in Afghanistan.
The Washington Post reports US and Taliban representatives have held three direct meetings.
My impression is that Mr Obama and Mr Cameron will be talking in some detail about the progress and direction of talks.
One of the big issues is the role played by other powers in the region. Diplomats say Pakistan is the key, and that what's needed is a balancing act where the country is committed to a solution without exercising a veto or having an "unhealthy" involvement.
This is critical for both men - and for their war-weary electorates.
Just as President George Bush and Prime Minister Tony Blair needed each other to go to war in Iraq, Mr Cameron and Mr Obama need each other to end the war in Afghanistan against the judgement of those in their respective militaries who would rather stay and push for a clear victory.
Mr Obama is expected to make a big speech next month ahead of the troop withdrawals he has promised will begin in July.
Just when British soldiers start coming home - and how many - probably depends on the details of what the Americans do. Mr Cameron has made 2015 a clear deadline for the end of a combat role. The senior diplomat suggested that it was difficult to imagine a serious wind down "without a decisive move in the political process".
There will be more meat in next week's visit than just what is on the menu at the state banquet.