Strauss-Kahn faces tough routine at Rikers Island jail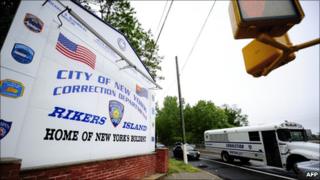 In only two days, Dominique Strauss-Kahn has moved from a $3,000-a-night penthouse suite to a cell in one of America's most notorious jails.
The IMF chief, accused of trying to rape a hotel maid, is being detained at Rikers Island on the edge of New York.
The sprawling complex is the subject of TV dramas and home to gang members and thousands of other inmates accused of serious crimes.
Mr Strauss-Kahn is being held in his own cell, officials say.
Both Rikers Island and the courthouse detention centre Mr Strauss-Kahn was transferred from - known as "The Tombs" - are considered to be dangerous.
"It's crowded and the food is terrible. And one of the dangerous things is famous people are preyed upon," defence attorney Gerald Lefcourt told the Reuters news agency, referring to both places.
'Sharp-edged plates'
The Rikers jail complex sits on a 400-acre (1.65 sq km) island on the East River, near LaGuardia airport, between the boroughs of Queens and the Bronx.
Built in the 1930s (although there has been a jail on the island since the late 19th Century), the facility is a chaotic maze of cells in 10 separate facilities that cater for men, women, adolescents and those in need of medical attention.
The Rikers complex holds about 11,000 inmates on any given day. It houses suspects denied bail pending trial as well as those serving sentences of less than a year.
Many low-risk offenders share cells with dozens of other people. Some are housed in 50-bed barracks.
One of America's largest jails, its staff are catered for by an island infrastructure that includes shops, schools, churches and its own power plant.
Previous residents include Sid Vicious, the Sex Pistols bassist who was held at Rikers after murdering his girlfriend Nancy Spungen in the Chelsea Hotel in 1979, as was Mark Chapman, the man who shot dead Beatles star John Lennon on the steps of his Manhattan home.
The island facility has also played host to a plethora of so-called gangsta rappers, including Tupac Shakur, DMX, Foxy Brown and Lil Wayne among its previous inmates.
Such is the facility's infamy that musician Kool G dedicated an eponymous rap to it 1990, which contains the lyrics: "Whether you're white or you're black, you'll be black and blue... They have a nice warm welcome for new inmates - razors, and shanks and sharp edged plates."
Battered fish or cabbage?
Mr Strauss-Kahn is expected to be kept in virtual isolation and under 24-hour watch, in large part for his own protection from inmates who might relish the opportunity to attack someone famous.
"This is not about isolating the inmate from any human contact. This is about preventing the inmate from being victimised or harmed in some way as a result of his high profile," a spokesman for New York's Department of Correction said.
His cell will measure 11ft by 13ft (3.35m by 4m), law enforcement officials told the Reuters news agency.
The New York Times reports that the IMF chief is being held in protective custody in a single-person cell in the prison's West Facility - normally home to prisoners with contagious diseases or drug problems.
The BBC's Tom Burridge in Washington says his routine and conditions are expected to be similar to most other inmates.
He is likely to be woken at 0600 and lights will go out around 2300.
He will not have to remain in his cell at all times, but will be escorted by a guard when outside; he is expected to be given an hour of recreational time each day.
Although he will have no TV or internet access, Mr Strauss-Kahn will be able to peruse a limited number of books, magazines and newspapers.
As well as regular visits from his legal team, he will be allowed three visits from family and friends.
His diet will be a far cry from that offered in many of the New York eateries with which the IMF chief is familiar: breakfasts at Rikers comprise fruit and cereal, while staple fare for main meals includes ground turkey with rice and beans, battered fish and cabbage or curried chicken.