NFL wins court order allowing player lock-out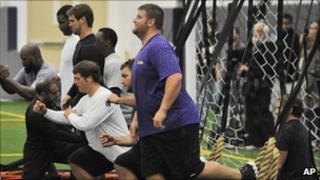 The US National Football League has won a court ruling in a labour dispute that allows it to lock out players from team facilities.
The federal appeals court ruling on Monday jeopardises the on-time start of the 2011 season.
It stays a lower judge's April decision barring the negotiating tactic until a court could decide the its legality.
The player and owners are at odds of how to split from ticket sales and broadcast rights.
Sticking point
The collective bargaining agreement between the players and the 32-team league expired in March, and the owners locked the players out of its training facilities and ceased paying them and providing them with health insurance.
Players have organised their own workouts to keep fit and remain in contact about the status of the case. But with training camps set to open in two months and the first preseason game set for 8 August, it remains uncertain whether the season will begin on schedule.
The main sticking point in the labour dispute is how to distribute the league's $9bn (£5.5bn) in annual revenues.
Players for the NFL's 32 teams currently receive 60% of the revenues, something the clubs' owners see as too generous.
The NFL takes $1.3bn for costs but it says these have risen steeply since the previous deal was struck in 2006 and it now wants to take $2.3bn, which would mean less money for the players.
After the teams imposed the lockout, the players sued in US district court in Minnesota, arguing the move was illegal.
In April, a US district judge granted their request to end the lockout, and four days later the Eighth Circuit Court of Appeals granted a temporary stay of that ruling.
On Monday, the appeals court granted the league a stay of the district court ruling halting the lockout until it can hear arguments on the move's legality on 3 June.
"We have serious doubts that the district court had jurisdiction to enjoin the league's lockout, and accordingly conclude that the league has made a strong showing that it is likely to succeed on the merits," the majority wrote.