Guantanamo Bay: US may allow inmates family visits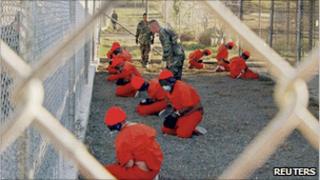 The Pentagon is weighing whether to allow inmates at the military prison at Guantanamo Bay to have family visits.
About 172 terror suspects remain at the detention centre - some have been held there for nearly a decade.
Republicans in the US House, meanwhile, are pursuing legislation that would bar such visits.
President Barack Obama pledged to shut the base within his first year in the White House, but was unable to overcome Congressional opposition.
In Washington, the House armed services committee on Wednesday added a measure to a defence spending bill that would effectively bar family visits to inmates at Guantanamo Bay by forbidding the US Department of Defence from spending money to permit visits.
"My efforts are aimed at protecting US personnel at Guantanamo and sensitive national security information from being compromised," Republican committee chairman Buck McKeon said, according to the Washington Post.
"Allowing family members to visit detainees at Guantanamo Bay would create major security concerns for our nation."
The provision, which may be stripped out before the defence spending bill becomes law, was seen as an effort to pre-empt any Pentagon move to allow family visits.
The Washington Post reported that the International Committee of the Red Cross, which currently transmits letters between Guantanamo prisoners and their families, has been pushing the Pentagon to allow the face-to-face visits.