Libya: White House to meet rebel leader Mahmoud Jibril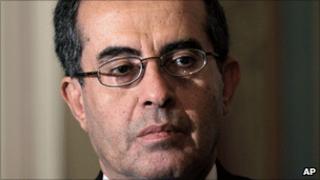 The leader of a Libyan opposition group is to meet senior US officials and members of Congress on Friday, the White House has said.
Mahmoud Jibril, president of the Libyan Transitional National Council's executive bureau, will meet National Security Adviser Tom Donilon.
The US is weighing providing frozen Libyan assets to the group.
Rebels have been fighting Libyan leader Col Muammar Gaddafi since February, with Nato also targeting his forces.
Mr Jibril has been forming plans for a post-Gaddafi Libya, including an interim government that would immediately take over to provide day-to-day governance and keep order.
The caretaker government would include members from the Transitional National Council, technocrats from the Gaddafi regime, senior military and intelligence officers and a supreme court judge, he said last week.
Meanwhile, Mr Jibril has been pushing for diplomatic recognition of the council, for access to frozen Libyan assets and for further humanitarian and military support.
On Wednesday, US Senator John Kerry, chairman of the Senate foreign relations committee, said he was drafting legislation at the request of the state department that would hand some of the roughly $30bn (£18.4bn) in Libyan assets frozen in US banks to the Transitional National Council.
"It will not come from an American taxpayer, it will come from Col Gaddafi himself," Mr Kerry said, according to the Reuters news agency.
After months of fighting, a group of rebels remain holed up in the western city of Misrata, where they have come under heavy attack by government forces.
On Wednesday the rebels said they had seized Misrata airport in the west, driving back pro-Gaddafi troops.
Rebel forces are mostly concentrated in strongholds in the east of the country.