Peace Corps apology for response to crimes on staff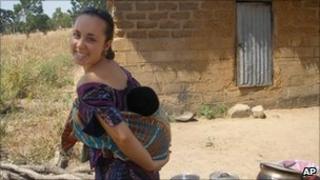 The US Peace Corps has apologised for failing to respond adequately to the rapes of volunteers and the recent killing of another serving overseas.
Director Aaron Williams said the corps had "not always been sufficiently responsive, compassionate or sensitive to victims of crime".
The apology came as three rape victims testified to lawmakers that they were poorly trained to deal with attacks.
The corps sends volunteers to live and work in developing countries.
It is an agency of the US government.
Protecting future volunteers
The victims of the attacks and the mother of a murdered volunteer told the House Committee on Foreign Affairs that the Peace Corps - which is celebrating its 50th anniversary this year - reacted insensitively and unhelpfully following the crimes.
Kate Puzey, from the US state of Georgia, was killed in 2009 in Benin. The three rape victims were attacked in Niger, Nepal and Bangladesh.
"I want the young women who go into the Peace Corps today to be protected," said Carol Marie Clark, who testified that she was raped and impregnated by the programme's director in Nepal after joining the agency in 1984.
Appearing at the same hearing, Mr Williams apologised for the lack of response by the agency, calling the health and safety of its volunteers the Peace Corp's top priority.
Mr Williams said the organisation had since taken steps to respond to the crimes, like writing guidelines about how to respond to rape and hiring a crime victims' advocate.
"The Peace Corps has not always been sufficiently responsive, compassionate or sensitive to victims of crime and their families," Mr Williams told lawmakers.
"It is heartbreaking to learn, and I apologize for any additional pain the agency has inflicted on our volunteers."
Members of the committee said the testimony could change the way the agency is run in the future.
The Peace Corps has sent over 200,000 Americans to serve in 139 countries since its founding in 1961.