Mississippi flood: Southern states brace for crest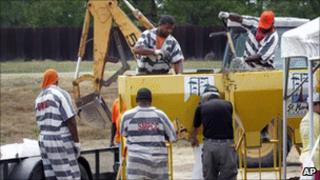 Communities along the southern stretch of the Mississippi River are bracing for major floods as the crest of the swollen river moves downstream.
In poverty stricken areas of the Mississippi delta, the river and its tributaries have washed away crops and forced people to leave their homes.
The state of Mississippi's riverfront gambling industry has also been hit, with all 19 casinos to shut this week.
The flooding has badly affected Memphis and other cities further upstream.
The flood crest has passed Memphis and is expected to move downstream toward New Orleans within the next three weeks, the National Weather Service said.
'Just scared'
The Mississippi's tributaries have also flooded. In Arkansas, on the river's west bank, flooding along the White River forced officials to close Interstate 40, one of the busiest highways in the state.
On Thursday, the river was expected to crest in Helena, Arkansas, at 56.5ft (17.2m), 12.5ft above flood stage.
In the delta states of Mississippi and Louisiana, workers were shoring up levees to strengthen them against the coming high water.
Louisiana's St Martin Parish gave jail inmates the task of filling sandbags to protect homes on ground that could be flooded if the authorities open a floodway to take pressure off the levees over the cities of Baton Rouge and New Orleans.
"Everybody is just scared," St Martin Sheriff's Deputy Ginny Higgins, who was overseeing the prisoners, told the Associated Press. "They don't know what to do."
Officials have said the flooding could take weeks to recede.
On Monday and Tuesday, the Mississippi River peaked at just under 48ft (14.6m) in Memphis, the US national weather service said.
That city is coping with flood levels not seen since the 1930s, which have forced people from some 1,300 homes.
The authorities have also warned residents to look out for snakes and rats which could seek shelter on higher ground.
Engorged by the spring thaw and heavy rains, the Mississippi has also caused significant flooding upstream in Illinois and Missouri.