John Kerry to travel to Pakistan amid strained ties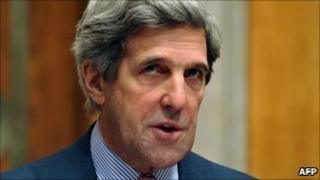 Influential US Senator John Kerry will travel to Pakistan this week with aim of getting the dialogue between the nations back "on the right track" after the killing of Osama Bin Laden.
Mr Kerry, a top Democrat close to the Obama administration, said he expected to see "all the main players".
Relations with the US are severely strained since last Sunday's raid.
Mr Kerry said he would hold talks in the White House before the trip, which will also take him to Afghanistan
'Serious questions'
Pakistan has rejected allegations that the US killing of Bin Laden showed Pakistani incompetence or complicity in hiding the al-Qaeda leader.
But on Tuesday, a report in the New York times suggested President Obama had insisted the raid team sent to kill or capture Bin Laden was big enough to fight its way out in case it met resistance from Pakistani forces.
Mr Kerry, chairman of the Senate Foreign Relations Committee, said of his trip: "A number of people suggested it would be good to get a dialogue going about the aftermath and how we get on the right track".
Correspondents say Mr Kerry has in the past acted as an unofficial envoy for the Obama administration.
"There are some serious questions, obviously, there are some serious issues that that we've just got to find a way to resolve together," Mr Kerry told reporters.
"Our interests and their interests I think are well served by working through those difficulties."
President Obama had previously urged Pakistan to investigate how the al-Qaeda leader could live in the garrison city of Abbottabad undetected and to find out if any officials knew of his whereabouts.
But in a statement to parliament on Monday - announcing an investigation into how Bin Laden lived undetected - Pakistani Prime Minister Yousuf Raza Gilani insisted that allegations of Pakistani complicity and incompetence were "absurd".
He said that Pakistan was "determined" to examine the failures to detect Bin Laden and he mounted a robust defence of Pakistan's record in fighting terrorism.
He also added that the US raid was "a violation of sovereignty".