Duchess of York tells Oprah wedding snub was difficult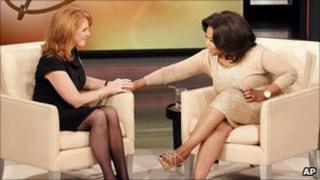 The Duchess of York has told US talk show host Oprah Winfrey that not receiving an invitation to the royal wedding was "difficult".
"I wanted to be there with my girls," the former royal said.
In a taped interview, Sarah Ferguson said she went to Thailand instead of attending Prince William and Catherine Middleton's wedding in London.
In 2010 she was recorded offering to sell access to ex-husband Prince Andrew to a reporter posing as a businessman.
The duchess's daughters, Princess Beatrice and Princess Eugenie, attended the wedding with Prince Andrew.
"It was so difficult... because I wanted to be there with my girls and to - and to be getting them dressed and to go as a family," the Queen's former daughter-in-law said in the interview taped on 6 May and due to air on Wednesday.
The duchess said she spoke on the telephone with Prince Andrew and her daughters throughout the morning of the wedding - 29 April - and that they made her feel "very part of the day".
But she also said the decision to not invite her was "quite right".
The duchess was caught on video last year offering to sell access to Prince Andrew for £500,000 ($818,000).
"I felt that I ostracized myself by my behaviour, by the past, by living with all the regrets of my mistakes," she said.
Winfrey's new cable station, Own, will soon premiere a new series featuring Sarah Ferguson, called Finding Sarah.