US awards $2bn for high-speed rail upgrades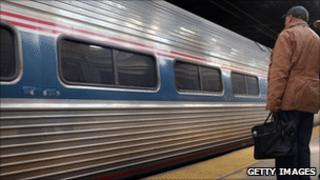 The US government has awarded $2bn (£1.2bn) for high-speed rail in critical corridors, after Florida's Republican governor declined the funds.
The projects will boost rail services between Washington DC to Boston, as well as in the mid-west and California.
Florida Governor Rick Scott cancelled a high-speed rail project in his state, fearing taxpayers there would have to subsidise the project in the future.
President Barack Obama has made expanding rail services a priority.
"These projects will put thousands of Americans to work, save hundreds of thousands of hours for American travellers every year, and boost US manufacturing by investing hundreds of millions of dollars in next-generation, American-made locomotives and rail cars," Vice-President Joe Biden said in a statement released by the Department of Transportation.
The 22 inter-city rail projects to be funded by the $2bn include:
$795m to upgrade the railroad in the heavily used Northeast Corridor between Washington DC, Philadelphia, New York City and Boston, increasing speeds to 160mph from 135mph in some stretches
$404m to expand high-speed rail between Detroit and Chicago, saving passengers 30 minutes of travel time
$300m to advance a high-speed rail project between Los Angeles and San Francisco
The money will also improve service on commuter rail systems like New Jersey transit and the Long Island Railroad, both near New York City.
In March, the Obama administration revoked a $2.4bn grant to Florida that would have developed a high-speed rail link between the cities of Tampa and Orlando, after Mr Scott rejected the money.
Mr Scott said he did not want the cash-strapped state to have to pay for operating costs in the future, although state transportation officials had forecast the rail line would operate at a profit in its first year, 2015.
Rail travel in the US remains slow by comparison with services in many other countries.
In the Northeast Corridor, an express train takes about three hours and 40 minutes to travel about 220 miles (354km) from New York to Boston. By contrast, the Eurostar travels roughly the same distance from London to Paris in less than two and a half hours.