Bin Laden raid: Barack Obama describes 'huge risks'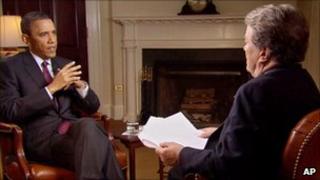 US President Barack Obama has described the operation against Osama Bin Laden at a complex in Pakistan where he was hiding as a "55/45 situation", based on circumstantial evidence he was there.
In his most comprehensive description of the raid so far, Mr Obama told CBS many of his advisers had doubts about the plan but this made it "sharper".
The 40 minutes of the raid were, he said, possibly the longest of his life.
He did not even tell his own family, or some of his closest aides, he added.
Bin Laden was killed in the operation by US special forces last week on a residential complex in the town of Abbottabad.
The interview, for the 60 Minutes programme, was filmed on Wednesday and broadcast on Sunday.
'Prince from Dubai'
In it, Mr Obama describes how the plan was prepared and carried out, what was going through his mind as he watched it unfold, and the secrecy ahead of his announcement of the result on 1 May.
He said the special forces who carried out the operation "did an extraordinary job with just the slenderest of bits of information".
"At the end of the day, this was still a 55/45 situation. I mean, we could not say definitively that Bin Laden was there," he added.
"If it turns out that it's a wealthy... prince from Dubai who's in this compound and... we've sent special forces in, we've got problems."
The US president said that many doubts were expressed about the operation by those who knew about it, because of the greater perceived risks in comparison with other possible methods such as air strikes, but that he welcomed this openness.
"The fact that there were some who voiced doubts about this approach was invaluable, because it meant the plan was sharper, it meant that we had thought through all of our options, it meant that when I finally did make the decision I was making it based on the very best information," he said.
"It wasn't as if any of the folks who were voicing doubts were voicing something that I wasn't already running through in my own head."
'Tense mood'
But those in the know were comparatively few, he said, adding that he regretted not being able to sound out certain aides who had been kept out of the loop.
Asked why he had not informed the Pakistani authorities in advance, he said: "I didn't tell most people here in the White House. I didn't tell my own family. It was that important for us to maintain operational security.
"If I'm not revealing to some of my closest aides what we're doing, then I sure as heck am not going to be revealing it to folks who I don't know."
Mr Obama described how he spent the weekend on other things - viewing tornado damage, speaking at the space shuttle launch and the White House Correspondents' Dinner. He admitted it was hard to keep focused on the job in hand.
When it finally came to the operation, the mood in the White House Situation Room was tense.
Monitoring the operation in real time involved "large chunks of time in which all we were doin' was just waiting".
"It was the longest 40 minutes of my life with the possible exception of when Sasha got meningitis when she was three months old and I was waiting for the doctor to tell me that she was all right," he added.