Fears grow as flooding worsens in multiple US states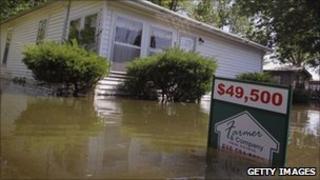 Fears are growing among US residents living along the Mississippi River as rising flood waters threaten communities in states from Illinois to Louisiana.
Police officers went door-to-door in Memphis, Tennessee urging residents to leave nearly 1,000 homes near the Mississippi River and its tributaries.
Sections of the Mississippi Delta also began to flood early on Friday.
The rising waters have already broken records set in 1927 and 1937.
But levees put in place over the past several decades are expected to prevent flooding from being as devastating as it was roughly 80 years ago.
'Property in danger'
In Tennessee, where officials do not have the authority to order evacuations, emergency responders were said to be handing out flyers on Friday in both English and Spanish that read: "Evacuate!!! Your property is in danger right now."
The flyers included a phone number to arrange transportation to shelters throughout the region.
The director of emergency management in Shelby County, Bob Nations, said there was still time for residents to take precautionary measures.
"This does not mean that water is at your doorstep," Mr Nations said of the police effort.
"This means you are in a high-impact area," he added.
The Mississippi River rose to 45.9ft (13.9m) near Memphis on Friday morning, surpassing the 45.8ft level of a record-setting 1927 flood, the city's Commercial Appeal newspaper reported.
The river is expected to crest at 48ft on Wednesday.
Parts of the Mississippi Delta, a small section of land in north-west Mississippi, began to flood early on Friday, forcing animals in the lush region to seek higher ground.
Maps released by the US Army Corps of Engineers forecast that flooding could occur across the south Mississippi Delta for the next two weeks.
"Here we are today and everything's fine - and tomorrow there could be all this water," Mississippi waitress Lakeysha Stamps told the Associated Press news agency.
President Barack Obama declared regions in the states of Mississippi, Tennessee and Kentucky disaster areas earlier this week, making the states eligible for federal help with relief efforts.
The Army Corps of Engineers have detonated three separate sections of the Birds Points levee in Missouri in the past week in an effort to save communities in Missouri and Illinois.