Osama Bin Laden 'planned 9/11 anniversary train attack'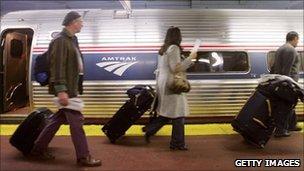 Documents found at Osama Bin Laden's Pakistan home suggest he was planning attacks on the US, including on the 10th anniversary of 9/11, reports say.
One plan was to target a US rail route, US officials revealed, although no imminent threat was detected.
Officials are examining computers, DVDs, hard-drives and documents seized from the Abbottabad home where Bin Laden may have hidden for six years.
Several rallies are expected across Pakistan in protest at Monday's raid.
Many Pakistanis are angry at what they see as a US infringement of their country's sovereignty.
They are also critical of the government for allowing the commando operation to happen, although officials deny they were told about it.
Around 1,000 people had already gathered in central Abbottabad following Friday prayers, the AFP news agency reported.
They were setting fire to tyres, blocking a main road and shouting "Down, down USA!" and "Terrorist, terrorist, USA terrorist".
Anti-American sentiment appeared to be high at a similar protest in the south-western city of Quetta, the capital of Baluchistan province.
Later on Friday, US President Barack Obama is due to meet some of the troops involved in the helicopter-borne assault.
He will hold private meetings on Friday at Fort Campbell, Kentucky, with at least some of the Navy Seals who took part in the raid.
Information about the apparent plans unearthed in Pakistan was contained in a joint FBI and Homeland Security bulletin, the Associated Press news agency said.
The bulletin, circulated to law enforcement officials, said the idea to tamper with an unspecified US railway track was found in handwritten notes taken from Bin Laden's compound.
According to the bulletin al-Qaeda operatives planned to derail a train so that it would plunge into a valley, or from a bridge, AP reported.
"While it is clear that there was some level of planning for this type of operation in February 2010, we have no recent information to indicate an active ongoing plot to target transportation and no information on possible locations or specific targets," the warning read.
One intelligence official said the notes revealed the ambition to hit the US with large-scale attacks in major cities and on key dates such as anniversaries and holidays.
One unnamed US official told the New York Times the documents revealed that Bin Laden was not merely a figurehead for al-Qaeda sympathisers worldwide.
"He continued to plot and plan, to come up with ideas about targets, and to communicate those ideas to other senior [al-]Qaeda leaders," the newspaper quotes the official as saying.
Meanwhile, further details have emerged about Bin Laden's life in the Abbottabad compound and the exact sequence of events that lead to his death.
A senior Pakistani military official said one of Bin Laden's wives told investigators she had been living in the compound for five years, along with her husband.
New reports of the raid appear to contradict earlier information about the raid.
White House counter-terrorism adviser John Brennan had originally suggested that Bin Laden was among those who was armed within the compound.
Early accounts of Sunday night's raid had suggested a lengthy exchange of fire throughout the 40-minute operation.
But US officials now say that only one person fired on the US special forces.
He is believed to have been Bin Laden's courier, Abu Ahmed al-Kuwaiti, who was killed at the start of the raid.
Critics have raised concerns about the legality of the operation after the US revised its account to acknowledge Bin Laden was unarmed when shot dead.
However, the US has maintained that Bin Laden was a lawful military target whose killing was "an act of national self-defence".
Citing unnamed officials, the newspaper said the CIA's operation used satellite imagery and attempted to record voices inside the compound, but was stood down before the military operation was eventually launched.
Pakistan's army has acknowledged "shortcomings" in its own efforts to find Osama Bin Laden but has also threatened to review ties with the US military if it carries out any further unilateral operations.