US tornado outbreak was 'biggest ever'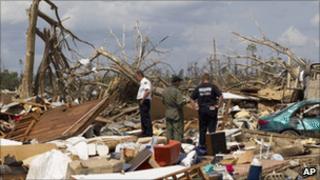 The outbreak of tornadoes that ravaged the southern US last week was the largest in US recorded history, the National Weather Service has said.
The three-day period from 25-28 April saw 362 tornadoes strike, including some 312 in a single 24-hour period.
The previous record was 148 in two days in April 1974.
The tornadoes and the storm system that spawned them killed at least 350 people in Alabama and six other states. It was the deadliest outbreak since 1936.
The review by US meteorologists came as the southern US states of Mississippi, Alabama, Georgia, Tennessee, Virginia, Louisiana and Kentucky continued the huge task of digging out from the destruction.
In Tuscaloosa, Alabama, a university town that was the worst-hit single location, officials estimated debris removal alone would cost $70m (£42m) to $100m (£60m).
The storm tore down century-old trees, flattened farm buildings and downed power lines, leaving as many as one million people without electricity in Alabama alone.
On Monday, more than 400,000 people still had no power in that state, emergency officials said.
The most destructive tornado struck Tuscaloosa, killing at least 65 people between there and the city of Birmingham, the National Weather Service said in a statement.
That was the deadliest single tornado since 1955, when a twister in Kansas killed 80.
Storm scientists say that tornado had a maximum width of 1.5 miles (2.4km) and a track 80 miles long.