Victims of Al-Qaeda attacks welcome Bin Laden's death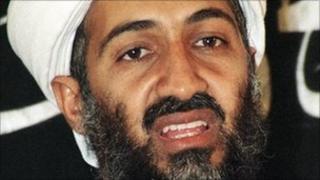 The loved ones of people killed in al-Qaeda attacks have been responding to the news Osama Bin Laden has been killed by US forces in Pakistan.
One Briton, who lost his partner in the 7 July 2005 bombings in London, said he felt justice had been done, but was concerned about safety and security.
Betty Hilton, whose son-in-law was killed on 11 September 2001, said: "My immediate reaction is, I'm glad."
The terror network's leader had been top of the US "most wanted" list.
He was directly involved in the organisation of the 9/11 attacks in the US, and was believed to have been the inspiration for the perpetrators of the 7/7 bombings.
John Falding's partner Anat Rosenberg died in the 7/7 attack aboard the number 30 bus in Tavistock Square.
Reprisals?
Mr Falding said: "There will be relief and comfort for victims of al-Qaeda all around the world. But I think also it's a short-lived victory, in a way, because we now have to be on our guard.
"I think there will be reprisals - if only so that people can demonstrate that the organisation... still has potency."
While Mrs Hilton, whose son-in-law Robin Larkey was killed in the World Trade Center attacks in New York, said on hearing the news: "My immediate reaction is, I'm glad. You think - jolly good.
"He was such a dreadful person, I'm sure the world is better off without him. I'm glad, but you often go deeply into thought about 9/11 and wonder who actually was to blame - I don't know if we are ever going to really know where to lay the blame completely."
Mr Larkey, from Surrey, was married to Mrs Hilton's daughter, Tracy, and was working in the North Tower of the World Trade Centre when it collapsed after the attacks.
Mrs Hilton, 72, from south-east London, said she was pleased that Bin Laden had been killed rather than captured. "When they have trials it goes on for ages. I'm glad, the world doesn't need him. I hope he doesn't become a martyr but I suppose it's a possibility.
"I'm glad he's no longer here - I just wish my son-in-law could be here. I suppose in a way it's some sort of justice, it makes me feel somebody is maybe paying in some way."
Another Briton killed in the 09/11 attacks was Douglas Eaton's 37-year-old son Robert, from Ditchling, East Sussex.
'No euphoria'
Mr Eaton said on hearing about Bin Laden's death: "I had no particular feeling of euphoria. If it leads to more peace in the world, one can only applaud it, but my concern is that there could be more outbreaks of violence because of what has happened. That would be most unfortunate.
"It would appear that he has had plenty of support otherwise he wouldn't have survived for so long."
Mr Eaton also said he would have preferred for Bin Laden to have been brought to trial.
Meanwhile, Sean Cassidy, whose 22-year-old son Ciaran was killed in the 7/7 suicide bombings in London, said he was "very happy" to hear the terror network's leader was dead.
He said: "I am very happy, and very well done to the Yanks, they deserve their praise."
But Mr Cassidy said Bin Laden's death did not mean an end to terror.
"There are plenty more willing to fill his shoes - all those fanatical organisations have their young pretenders."