US tornadoes: Death toll rises as more bodies found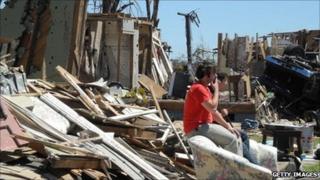 The death toll from the tornadoes that hit the southern US this week has risen to 340, in one of the worst twister outbreaks in the country's history.
Soldiers and emergency teams are still searching for bodies and survivors.
More than 200 tornadoes were reported across six southern US states on Tuesday and Wednesday.
During a visit to Alabama, which bore the brunt of the storms, President Barack Obama said he had "never seen devastation like this".
Mr Obama was speaking in Tuscaloosa, an Alabama town hit by a mile-wide (1.6km) tornado on Wednesday.
"We are going to do everything we can to help these communities rebuild," Obama said. "We're going to make sure you're not forgotten."
More than 250 people died in Alabama alone - mostly on Wednesday.
As many as a million homes and businesses in the state are still without power.
The overall death toll across the southern US makes it the second-deadliest tornado outbreak in US history, the Associated Press news agency reports.
It says the largest death toll ever was in March 1925, when 747 people were killed in storms that raged through Missouri, Illinois and Indiana.
Alabama Governor Robert Bentley said he expected more bodies to be found in the coming days.
The mayor of Birmingham, the largest city in the state, told reporters on Friday: "Whole neighbourhoods of housing, just completely gone. Churches, gone. Businesses, gone... [it] seems like a bomb has been dropped."
Tornadoes and storms have also caused deaths in Tennessee, Mississippi, Kentucky, Louisiana, Georgia and in Virginia.
A state of emergency remains in place in those states.