Tuscaloosa tornado survivors pick through rubble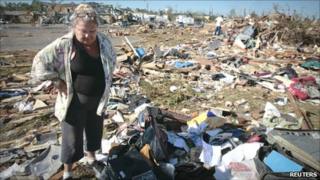 The tornado that tore through Tuscaloosa on Wednesday was a capricious beast.
It flattened some neighbourhoods entirely but spared others, razed dozens of houses on a street while leaving a couple standing and, in some homes, destroyed every room save that in which a family took shelter.
As the city dug out from the wreckage on Friday, those fortunate enough to survive with their lives and their houses largely intact described a different kind of heartbreak from those forced to rebuild.
"It's almost a survivor's guilt," said Donny Selman, 33, who cowered under a mattress in a hallway with his pregnant wife while the tornado tossed trees into almost every house on the block but his.
"I feel blessed and grateful, but the loss of life was great. It's almost like, why us? Why were we spared?"
Unimaginable devastation
Chris Rhodes, a 22-year-old student at the University of Alabama, took shelter with three friends in his bathroom as the twister ravaged the neighbourhood.
Across the street, three fellow students were killed when a tree fell on their house.
"I still don't know what to think," he said, pausing as he and his father cleared downed trees from the street with a chainsaw.
"I still haven't slept too well. I've been playing through the circumstances, the 'what ifs'."
The twister cut through Tuscaloosa like a lawnmower with a mile-long blade, grinding the city beneath into a twisted pile of metal, roof shingles and timber.
It snapped tree branches and poured-concrete utility poles with ease, uprooted century-old trees, and turned over cars like matchbox toys.
The tornado tore down house walls, offering gawkers, emergency workers and news crews an embarrassingly intimate glimpse into people's once-private material lives - bedrooms and bathrooms revealed to the outside, a student's library of theology texts strewn about a car park, a collection of 12in (30cm) record albums saved for decades only to lie warping under the hot Alabama sun.
In a flattened block of apartments, rain-sodden smoke detectors howled as if warning of a danger that had already passed.
While survivors collected what belongings they could salvage and praised God for sparing them worse, the search and rescue effort continued unabated.
Finding the dead
Tuscaloosa is under virtual police rule. Movement in the disaster zone is strictly limited to prevent looting, although almost none has been reported, and to keep roads clear for emergency vehicles. The mayor imposed a curfew of 2000 local time (0100 GMT) for Friday night.
The city's death toll stood on Friday at 42 dead and more than 900 injured, with both numbers expected to rise.
"We are bringing in the cadaver dogs today," said Heather McCollum, assistant to the mayor of Tuscaloosa.
Almost two days after the storm, a woman with cerebral palsy was found left behind in the wreckage of a block of flats and carried out, in apparent health, by volunteers.
A group of teenagers from a church, who had been patrolling a storm-damaged neighbourhood offering food and water to survivors, heard dogs barking in an abandoned house. They freed half a dozen pit bulls, promising to turn the hungry but playful dogs over to an animal shelter.
Chris Nicholson, a 23-year-old engineer, hid with his fiance in the bathroom at the centre of their small flat.
The tornado roared overhead and sucked all the water from the toilet as the couple huddled together and prayed.
"I can't really describe it. It wasn't a shriek, just a constant rumble, like an aeroplane engine," Mr Nicholson said.
Their apartment was largely undamaged. But three people in the two-storey block of flats remained missing on Friday, and a twisted metal structure, which appeared to either be a crane or a light tower, had crushed their upstairs neighbours' flat.
"We were one of the luckiest," he said.
Brandee Marion, a 24-year-old graduate student in psychology, hunkered down in an unsealed concrete shelter in the back garden with her brother and Spiffy, a 12-year-old African grey parrot, as the tornado neared.
The nerve-wracked bird began making beeping noises - imitating the burglar alarm on their house, Ms Marion said.
As the tornado passed overhead, she and her brother had to hold the birdcage tight to keep Spiffy from being sucked away.
"It was a bit of humour," she said of the bird's distress cry. "Inappropriate humour, maybe."
The temperature topped 24C under bright, sunny skies on Friday, and Alabamans who were able offered aid and comfort to their neighbours the best way they knew how - through their churches, with barbecued meat.
"It's too bad it takes this to get people to come together," said Dan Williams, of Harvest Church, which fed 700 people on Thursday.
On Friday, residents said they were disoriented walking and driving through neighbourhoods in which they had lived for decades. The storm had flattened all the landmarks - the dentist's office, the auto parts store, the boy scout club house - leaving behind uniform piles of debris.
"It looks like the bombers have come through," said John Duckworth, 78.