Syria: Obama signs off on sanctions hitting Syria, Iran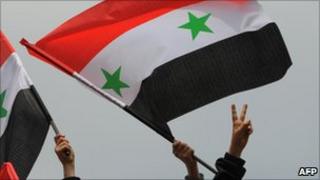 US President Barack Obama has signed an order imposing sanctions on three top Syrian officials, Syria's intelligence agency and Iran's Revolutionary Guard.
The sanctions freeze any assets the groups have in US jurisdictions and bar Americans from business with them.
Mr Obama authorised the penalties in the wake of a bloody crackdown on anti-government dissent that has left some 500 people dead, US officials said.
Two relatives of President Bashar al-Assad were targeted by the sanctions.
The sanctions name Syrian intelligence chief Ali Mamluk; Mr Assad's cousin Atif Najib, the former leader of the Political Security Directorate in Deraa Province; and Maher Assad, Mr Assad's brother and commander of the Syrian Army's Fourth Armored Division, which is accused of carrying out the worst atrocities in the southern city of Deraa.
In Deraa, dozens of people are reported to have been shot dead in recent days.
President Assad was not among those targeted in the sanctions, but he could be named later if violence continues by government forces against pro-democracy protesters, US officials said on Friday.
Activists have reported that some 500 people have been killed in the protests, which have been taking place for over six weeks, against the Syrian government.
'New tools'
The executive order signed by President Obama gives the US "new tools to target individuals and entities determined to have engaged in human rights abuses in Syria, including those related to repression", the White House said in a statement.
US officials said the sanctions were intended to send a message to the Syrian people that those responsible for the abuses must face consequences for their actions.
The officials added that the Commerce Department would also be taking steps against the Syrian government.
"I have determined that the government of Syria's human rights abuses... constitute an unusual and extraordinary threat to the national security, foreign policy and economy of the United States, and warrant the imposition of additional sanctions," Mr Obama said in the order.
"We have all grown increasingly alarmed by the violence unleashed against the Syrian people. The world should condemn these actions in the strongest terms possible," said Senator John Kerry, chairman of the Senate Foreign Relations committee.
He added: "Syrians are every bit as deserving of human rights and dignity as the Libyans, Tunisians, and Egyptians and the government should have met their protests with responsiveness not repression."
Meanwhile, thousands of protesters took to the streets of the Syrian capital Damascus and around the country on Friday, in protest against the regime of President Assad.
More than 40 people were killed in anti-government demonstrations across Syria on Friday, reports have said.
Witnesses said troops opened fire on demonstrators in the city of Deraa, where the unrest began in mid-March, reportedly killing 15 people.