US storms: What is it like to live in 'tornado alley'?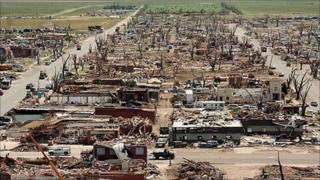 As the death toll continues to rise in the deadliest outbreak of storms the US has seen in 40 years, two community leaders who have experienced devastating twisters told the BBC what it is like to live in "tornado alley", and offer some advice to those hit by the recent storms.
In May 2007, Greensburg, in Kansas, was struck by a massive tornado. The town was almost entirely demolished and 12 people lost their lives.
One year later, Parkersburg, in Iowa, met a similar fate. Seven residents were killed and more than half the town was destroyed when extremely high speed winds tore a path right through the town.
Mayor Bob Dixson, Greensburg, Kansas
Warning sirens sounded on the evening of 4 May, just 20 minutes before the small town of Greensburg, Kansas, was hit by a devastating storm.
The twister's estimated 205mph (330km/h) winds demolished 95% of the city, levelling nearly every structure in its path.
Mr Dixson's home was among the wreckage but instead of cutting his losses, he says he knew right away he would stay and start over.
"This is my home. This is my lot. This is where I will rebuild. You can't live in fear or you'd never live anywhere," he says.
After the storm, Mr Dixon - who was elected mayor the following year - says he and his wife came up from their basement to find the roof, the walls and the doors had been pulled right off the house.
"My first thought," he says, "was: are we the only ones left?"
In the hours that followed, as they assessed the extent of the damage, he says it became clear that the whole town had been devastated, and that its residents had lost everything.
"But we still had each other and those relationships of faith, family and friends are what sustained us."
Having lived through it, he says he knows people in Alabama, and elsewhere in the US, just want to get back to normality. But, he says: "The old normal is gone. You'll never get it back. You have to find what we call here, the 'new-normal'."
Four years later, Greensburg, Kansas, is rebuilding as a "green city". The city council passed a law saying that all city buildings would have to be up to standards developed by the US Green Building Council, the first city in the US to do so.
So his advice to those people who will be making big decisions as they put their lives back together, is "take your time".
He says: "Don't make life decisions quickly. Think of the long-term ramifications as an individual or a community.
"What is the legacy you want to leave? Make sure as you rebuild you are building a better, stronger community."
Chris Luhring, former police chief, Parkersburg, Iowa
Parkersburg's city hall, high school, only grocery store, and gas station were flattened on 25 May 2008 when the small town in north-east Iowa was hit by the most powerful storm the state had seen in 32 years.
Chris Luhring, currently a city administrator in Parkersburg, was the police chief when the tornado struck.
Even as someone with the job of protecting the community and responding to disaster, he says, "nobody can anticipate this type of storm".
"We were aware of Greensburg," he says, "but we still couldn't imagine what would happen."
He has been watching events unfold across the south of the country this week, and he says even in the face of such awful devastation, it is important to hold on to one's strength.
"Our tornado had the ability to slow us down and to make us depressed. It's like being attacked by a bull, you can be killed by that bull or grab it by the horns and fight it off."
The advice he'd give to the communities and individuals affected by recent storms, is that "recovery is possible, never allow the doubt to sink into your mind that it's not possible".
"I've talked to communities who have been hit who say 'I don't know if we'll ever recover'," he says. "Well, if you think that you have already been beat."
As the city coped with the storm, Mr Luhring says, its "incident command system" was key.
The structure it organised to guide the response made sure "everybody is working towards the same goal, on the same page, from the firemen to the police to residents to the first responders".
Three years later, Parkersburg has largely been able to rebuild and recover from the catastrophe.
Mr Luhring, who lost his aunt in the storm, says the emotion does not go away.
"You always think what else could I have done? But you have to remember, everybody has limitations. You are not God. Neither am I."
Beyond the physical loss, what the storm took from the residents of Parkersburg, Mr Luhring says, is peace of mind.
"That feeling of safety is what has been taken away from people going through this right now," he says. "But they can do things to feel safe again."
After the storm, Mr Luhring adds: "We saw it as an opportunity to do things better and to show the world that recovery is possible.
"What I would say to community leaders today is that recovery is an option and you have to grasp it."