Profile: Gilles Duceppe of the Bloc Quebecois party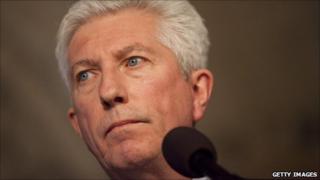 As leader of the separatist Bloc Quebecois, Gilles Duceppe heads the third largest party in the Canadian House of Commons.
He has represented the Laurier-Sainte Marie constituency in Quebec since winning a by-election in 1990.
He was originally elected as an independent, because in 1990 the Bloc Quebecois had not yet been registered as a political party by Elections Canada, the agency that administers Canada's federal elections.
As leader of the separatist Bloc, Mr Duceppe's mandate is to advocate for the separation of French-speaking Quebec from the rest of Canada, but he has support of many Quebeckers who do not necessarily share his party's goals.
He is well liked by those in Quebec who regard him as a leader who can advance the province's interests within a unified federation.
Longest serving leader
Mr Duceppe won a successful bid for the leadership of the Bloc Quebecois in 1997, and has led the party in four federal election campaigns.
He is the longest serving party leader in the House of Commons, and served as Leader of the Official Opposition in the Parliament of Canada for periods in 1996 and 1997.
Born in Montreal, Quebec on 22 July, 1947, Mr Duceppe is the son of a well-known Quebec actor, Jean Duceppe.
Prior to becoming an MP, he built his early career as a labour organiser.