Profile: New Democratic Party leader Jack Layton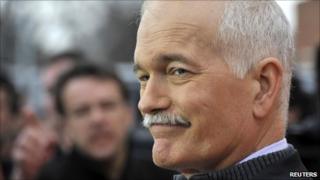 No one has been as sharp a thorn in the side of the Conservative Party as the New Democratic Party (NDP) Leader Jack Layton.
Mr Layton, who has served as the leader of Canada's left-leaning New Democratic Party (NDP) since 2003, has continually challenged Stephen Harper's Conservative government, blaming it for shortfalls in the Canadian economy.
Mr Layton said in 2011 that corporate tax cuts have contributed to the reason some Canadians "can't make ends meet, why so many people are still out of work".
"Canadians deserve a prime minister they can trust, a prime minister who will focus on the priorities of today's families, a prime minister who is really ready to roll up the sleeves, put the partisanship aside and work with others to get the job done," Mr Layton said.
Political family
Mr Layton was born in Montreal in 1950 and raised in the small town of Hudson in Quebec.
He is the grandson of Gilbert Layton, who served as a cabinet minister under Quebec's Union Nationale government, and the son of Robert Layton, a former cabinet minister in the Brian Mulroney government.
He was educated at McGill University in Montreal and York University in Toronto, where he was awarded a PhD in political science with a specialty in economic public policy in 1984.
Mr Layton formerly served on Toronto's city council and briefly served as the city's deputy mayor. He also ran for mayor of Toronto in 1991 and lost.
While serving on the city council, Mr Layton fought for left-leaning policies, while helping to engineer a strategy for combating Aids in Toronto. The programme that came out of Mr Layton's efforts was the first of its kind in Canada.
Mr Layton also often focused his attention on environmental policy, championing recycling and energy-efficiency initiatives.
He won a seat in the House of Commons in 2004 by defeating Liberal Dennis Mills and has represented Toronto-Danforth ever since.
Mr Layton's wife, Olivia Chow, became an MP in Ottawa in 2006, making the couple the second husband and wife team in parliament history.
Mr Layton also led the NDP to 29 seats in 2006, up from 18.
Mr Layton, who has recently recovered from a hip operation, was diagnosed with prostate cancer in late 2009 and went public with it in February 2010.
"Like my dad, I am a fighter and I am going to beat this," said Mr Layton, who suffered from the same type of cancer as his father.
During the past eight years, Mr Layton has turned the NDP into a truly national party that parallels much of his personal background.
Analysts have called Mr Layton a "trustworthy politician" and said Canadians could expect a more pragmatic governing agenda from a Layton government, one directed at demonstrating an effective display of power.
Mr Layton has promised to adhere to his commitment to balance the federal budget by returning the corporate tax rate to the 2008 level within the next four years if his party takes power.