Dean Heller to replace Nevada Senator John Ensign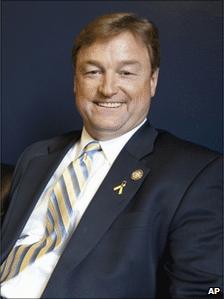 The Republican governor of Nevada has appointed Congressman Dean Heller to replace a US senator resigning over a probe into his affair with an aide.
Mr Heller will assume the office when Senator John Ensign steps down next week. Both are Republicans.
Mr Heller will have to run for the seat in the November 2012 election.
Mr Ensign said he was stepping down last week, after disclosures his parents had made a large payment to the aide and her husband during the affair.
In a statement, Nevada Governor Brian Sandoval described Mr Heller as "an experienced representative who is ready for the responsibilities of this office, and who will work hard, not just for Nevada, but for the entire nation".
Mr Heller was first elected to Congress in 2006. Nevada will hold a special election to fill his House seat within the next six months.