Deadly storms and tornadoes hit Arkansas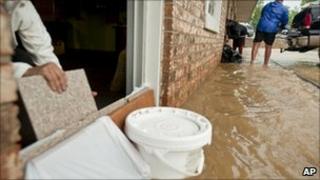 At least 10 people have been killed in the US state of Arkansas as storms and tornadoes careered up a swathe of the central United States.
The latest victim was found dead in central Arkansas, local police said.
Five others died as flood waters swept their cars off the road in the state's north-west, while four more died in a small town ravaged by a tornado.
The National Weather Service issued a high risk warning across across Tennesee, Arkansas, and Texas.
Meanwhile in Poplar Bluff, Missouri, 17,000 residents are hoping a levee holds and prevents major flooding.
Storms have pummelled states across the region for weeks and more rain is due.
More than a dozen tornadoes were reported in Texas and Arkansas on Monday night.
In eastern Texas, damage was reported in the largely rural Houston County but the extent was unclear because much of the area was without power, the Associated Press quoted Fire Marshal David Lamb as saying.
In Arkansas, four residents of the town of Vilonia - about 40km (25 miles) north of Little Rock - died when what meteorologists said was probably a tornado swept through the town.
"The town's gone," resident Sheldon Brock said from a petrol station outside Vilonia.
Authorities have closed roads around the town and urged residents not to try to return to help with the clear-up.
In the north-west of Arkansas, flood waters swept vehicles off the road, emergency officials said, killing a man and a woman in Madison County. In Washington County, a woman died but her 11-year-old son survived.
A fourth person was found dead on Tuesday morning, Governor Mike Beebe said.
He and the governor of Kentucky have declared states of emergency.
Levee under strain
In south-eastern Missouri, residents of Poplar Bluff are hoping a saturated levee withstands more rain.
On Tuesday afternoon the Black River had poured over the levee in 30 places and it had cracked in at least one place with water pouring through the breach.
In another area near the confluence of the Mississippi and Ohio rivers, authorities debated a plan to blow up one levee to ease the pressure on others.
Some 1,000 homes have been evacuated, and the National Guard has dispatched 200 soldiers and rescue equipment to the town.
At least 150 people are seeking shelter at a concert venue.
The storm system that has blown through north-eastern Texas, Oklahoma and Arkansas is now predicted to move into Illinois and Wisconsin to the north-east.
But a second system will follow on behind bringing more rain, said Greg Carbin from the Storm Prediction Center in Norman, Oklahoma.
"I think we'll see substantial flooding," Mr Carbin told AP, adding later: "Arkansas to Illinois, that corridor, they've already had incredible rainfall and this is going to aggravate the situation."