Syria: US considers 'targeted sanctions' amid crackdown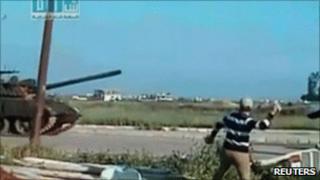 The US is weighing sanctions against Syria in response to the army's intensifying crackdown on popular protests, the White House has said.
The "brutal violence" Syria directed against protesters was "deplorable", a White House spokesman said.
Sanctions could include a freeze on Syrian assets and a ban on business with the US, officials have said.
On Monday, at least five people were reported killed as Syrian tanks and troops advanced into the city of Deraa.
"The brutal violence used by the government of Syria against its people is completely deplorable," National Security Council spokesman Tommy Vietor said.
"The US is pursuing a range of possible policy options, including targeted sanctions, to respond to the crackdown and make clear that this behaviour is unacceptable."
The remarks represent a further hardening of the US position on the Syrian protests following US President Barack Obama's strong condemnation on Friday of the Syrian government's use of force.
However, the BBC's Owen Bennett Jones, reporting on Syria from neighbouring Lebanon, says many Syrians doubt targeted sanctions will make a difference in this situation.
Meanwhile, at the UN on Monday, Britain and other European states were circulating a draft statement on Syria condemning the violence, calling for restraint, and backing Secretary General Ban Ki-moon's call for an investigation into the killing of protesters, a Security Council diplomat told the BBC.
The statement was expected to be discussed behind closed doors at a Security Council session on Tuesday, when Mr Ban was scheduled to brief members on the situation in North Africa, the diplomat said.
In total, more than 350 people have been killed in Syria since demonstrations started in March, activists say.
Tanks and sniper fire
Across Syria, witnesses have reported arrests and intensifying violence as popular protests against the regime of President Bashar al-Assad have escalated.
On Monday, witnesses reported Syrian troops had opened fire on protesters in a suburb of Damascus, the Syrian capital.
In the southern city of Deraa near the border with Jordan, protesters began calling for political reforms last month but have now begun demanding Mr Assad step down from power.
There, opposition activists said as many as 5,000 soldiers and seven T-55 tanks rolled into the city on Monday, with tanks surrounding the Omari mosque in the old city and snipers firing from rooftops.
More than 25 people were killed, their bodies unreachable because of fierce gunfire in the city, anonymous opposition sources reported. This claim could not be independently verified.