FAA fires sleeping air traffic controllers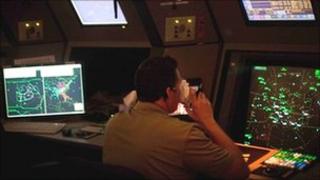 The US aviation agency has taken fresh steps to address problems in the air traffic control system following a string of embarrassing lapses.
Two air traffic controllers who were among several suspended for sleeping on the job have now been fired.
Aircraft carrying the first lady must also now be subject to a higher level of supervision.
A plane carrying Michelle Obama had to abort a landing on Monday after an apparent controller's error.
This is the latest action by the Federal Aviation Administration (FAA), which correspondents say has been shaken by the lapses.
It has already altered rules governing air controllers' shifts to try to tighten safety.
The two controllers who have now been fired had already been suspended - one in Miami, Florida and the other in Knoxville, Tennessee.
Associated Press said the controller fired in Miami was the one previously reported to have been found asleep early last Saturday while working an overnight shift.
The controller in Knoxville was discovered on 19 February having deliberately slept for five hours while on duty.
That controller "actually made a bed in the control tower, brought a pillow, brought blankets, he's been fired", Transportation Secretary Ray LaHood reportedly told the PBS NewsHour programme.
"We're not going to sit by and let that kind of behaviour take place in control towers."
New rules have also been introduced following an incident on Monday when Mrs Obama's plane had to abort a landing after coming too close to a military cargo jet.
An air traffic supervisor rather than air traffic controller will now monitor flights carrying the US first lady and vice president - the same as already applies to flights carrying the president.
'1,000% confidence'
The independent National Transportation Safety Board (NTSB) is already investigating controller errors and fatigue, and on Wednesday said it would also examine Monday's incident.
But Mr LaHood insists he retains full confidence in the FAA and sees no need for an independent review of its performance.
He supports FAA head Randy Babbitt "1,000%", Mr LaHood told Reuters news agency on Wednesday on the sidelines of a transport conference in Washington.
He said the FAA was currently carrying out investigations into nine safety-related incidents.