LA Times and NY Times each win two Pulitzer Prizes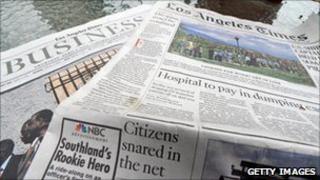 The Los Angeles Times and the New York Times have each been awarded two Pulitzer Prizes for journalism.
The Los Angeles Times won the public service prize for a series exposing how some local California politicians were paying themselves six-figure salaries.
The New York Times won for commentary and international reporting.
Pulitzer Prizes are awarded annually by Columbia University in New York City to honour the best in US literature, journalism and music.
The Los Angeles Times's reporting, which found officials in the town of Bell in California were raising property taxes and other fees to help cover up their large salaries, led to arrests of some of the town's political leaders.
"The real victors in this are the people of Bell, who were able to get rid of, there's no other way to say it, an oppressive regime," said reporter Jeff Gottlieb, following the announcement of the award.
The Los Angeles Times won a second prize for feature photography.
Digital media
The nonprofit online news service ProPublica won its first stand-alone Pulitzer for national reporting on Monday.
The Pulitzer judges cited its use of digital media to help explain questionable Wall Street practices that contributed to the US economic meltdown.
Last year, ProPublica and the New York Times won a joint Pulitzer.
Paige St John of the Sarasota Herald-Tribune in Florida was awarded a Pulitzer for investigative reporting for a series on a property insurance system for Florida homeowners, which led to regulatory action.
Mike Keefe of the Denver Post won in the editorial cartooning category.
Other winners include reporters from the Wall Street Journal, the Washington Post and the Chicago Sun-Times, among others.
The Pulitzer Board did not give an award in the category of breaking news for the first time in the 95-year history of the prize.
The 2011 Pulitzer Prize awards were awarded in 13 journalism categories and seven arts categories.