BP oil spill: Fishermen woes persist, one year on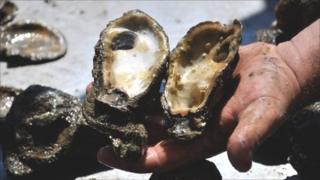 Nick Collins has the deeply tanned skin of a man who has spent most of his 39 years on a boat, fishing for oysters.
He has worked for his father's business, Collins Oyster Company, since he was 10 years old.
Not any more.
He has brought me out on his boat, a couple kilometres from the Gulf of Mexico, to show me why.
He winches up a basket full of oysters and sifts through each one, shaking his head.
"This one's dead. This one's dead. All of them empty shells. All of them, beautiful oysters, and they're dead. And all because of BP's oil spill one year ago," he says.
Everything he has caught, he has to throw back.
"It's heartbreaking," he says. "This is the biggest oyster kill in Louisiana history, probably in the Gulf coast's history.
"I wish I wasn't part of it. I wish I wasn't here. It's heartbreaking."
Out of business
Back at the headquarters of Collins Oyster Company, Nick's father Wilbert stands in the driveway, taking a long drag on a cigarette.
At 73 years old, he is the head of the family business.
"We used to have some of the best oysters in the country," he says. "They used to line up here for three hours at a time to get a bag full."
Now there are no cars lining up. Without any oysters, Wilbert has put up a sign on his front lawn.
It reads: "Collins Oyster Company - Out of Business After 90 Years Because of BP's Oil & Governor Jindals Fresh Water."
During the oil spill clean-up, Governor Bobby Jindal of Louisiana ordered the opening of giant valves on the Mississippi River, releasing torrents of fresh water that officials hoped would push oil back out to sea.
Reports since then have shown that the diversions had a catastrophic impact on the oyster beds, which need salt water to survive.
It is not just customers that Wilbert has lost.
Last Christmas, he was forced to lay off two of his sons, including Nick.
"That's the hardest thing. To let go of your own family and tell them they're going to have to go and do something else," says Wilbert.
Nick is now looking for work as a carpenter.
"Obviously, I'd rather be oystering," he says.
Wilbert says he hasn't received any compensation from BP for months.
"They just give you the run-around."
He even went to Washington to meet with Ken Feinberg, the man President Obama has appointed to run BP's $20bn (£12bn) compensation fund.
"I offered to personally show them all my dead oysters," he says. "But they had no interest in seeing them."
Local anger
A few miles down the bayou from Collins Oyster Company, Mr Feinberg has flown from Washington to Louisiana to answer questions from fishermen at a town hall meeting.
Wilbert says he is weary of his empty promises and has decided to stay at home.
Plenty of other fishermen have turned up. One by one, they take to a small podium and address their concerns directly to Mr Feinberg.
"You keep telling everybody that everything's fine is the Gulf of Mexico," says oil rig worker Clayton Mathern, "but you're sitting there lying to our faces."
"What about the people, myself included, that have lost everything they had? Everything they worked for, everything they took pride in?"
Mr Mathern's wife Becky, also speaks up.
"You told us personally that you would help us. You gave us your personal cell phone number and begged us to keep it secret, but whenever we called, you didn't pick up."
Many fishermen in the room have seen Mr Feinberg speak before. For shrimp fisherman Dean Blanchard, it is the fifth time.
"I thought I'd be here just in case you accidentally dropped a cheque," he says.
The audience bursts into laughter and applauds.
"We had the best product in the world," Mr Blanchard says. "Now we're known as an oil product."
"That's not right and you have to pay us."
Mr Feinberg leans towards his microphone and responds.
"It may be that there are people in this room that should have been paid, that haven't been paid," he says.
"But the programme is working. We've paid out. In less than seven months, we're approaching $4bn (£2.5bn), including $1.7bn (£1bn) for Louisiana."
"We're trying to do the right thing."
There have been a lot of promises from politicians, including Mr Feinberg, to make the fishermen of Louisiana whole again.
But Wilbert Collins is losing faith.
"Right now, there's so much going on around the world and not too many people are talking about the oil spill anymore. But it's not done. There are a lot of people hurting and it don't look like anyone cares."
"It discourages you so much to see the way the government treats you. For America - it's unbelievable."