Barry Bonds found guilty of obstruction of justice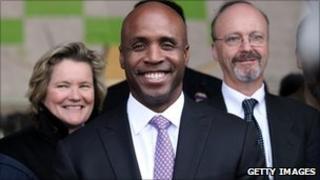 Former US baseball star Barry Bonds has been found guilty of obstruction of justice following a trial over whether he lied about having taken steroids.
But the jury in California failed to reach a verdict on three perjury charges and a mistrial was declared.
Bonds' legal team immediately asked that the guilty verdict be thrown out. There will be a hearing next month.
The former San Francisco Giants slugger broke Hank Aaron's record for career home runs in 2007, retiring with 762.
He also holds the single-season record for home runs with 73 in 2001.
Injection
Prosecutors told the court in San Francisco during the 12-day trial that Bonds had lied to a federal grand jury during an inquiry into the Bay Area Laboratory Co-Operative (Balco), which provided performance-enhancing drugs to athletes.
During questioning under oath in 2003, the outfielder denied that Greg Anderson, a personal trainer affiliated with Balco and a long-time friend, had supplied him personally with such substances.
Prosecutors alleged that the 46-year-old took steroids said to increase muscle mass and speed recovery time from injuries.
The obstruction of justice conviction related to Bonds' testimony to the grand jury about whether he had ever been injected with a needle by anyone other than his personal physician. It carries a sentence of up to 10 years in prison.
He is the 11th person to be convicted as a result of steroid distribution by Balco. The Olympic sprinter Marion Jones, former American football player Dana Stubblefield and the cyclist Tammy Thomas were convicted of perjury or lying to federal agents.
Federal prosecutors and the justice department will have to decide whether to retry Bonds on the unresolved counts of perjury.