Quebec police seek deaf toddler Adam Benhamma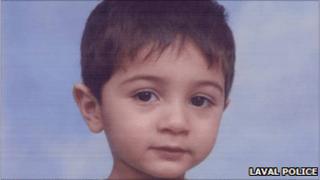 Police in Quebec are searching for an autistic, deaf toddler, who also cannot speak, who disappeared from a family gathering on Sunday.
Officers in Laval are using dogs and helicopters in the search for three-year-old Adam Benhamma.
Police said the search was complicated by the boy's inability to hear rescuers and to cry out for help, but added he could also have been abducted.
The home where he was last seen lies between a flooded wood and a river.
The boy was playing with other children during a family visit to friends in a remote part of the Auteuil district of Laval when he went missing, and police said he did not know the area.
"It's almost impossible to communicate with him, and also if something happened he couldn't scream or anything like that," Laval Police Constable Nathalie Lorrain was quoted by CBC as saying.
Divers with the Quebec provincial police were to search the Mille-Iles River on Monday.