Ex-astronaut Lisa Nowak's criminal record to stay open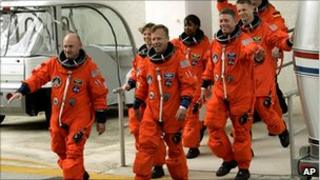 A Florida judge has denied ex-astronaut Lisa Nowak's request to seal her criminal record.
Nowak, who was accused of planning to attack a love rival, argued that keeping her record open would hurt her chances of finding a job.
Judge Marc Lubet refused the request on Thursday, saying any employer was probably already aware of her actions, which garnered much media attention.
Nowak was given one year's probation in 2009 after pleading guilty to burglary.
The former astronaut was accused of attacking and planning to kidnap Colleen Shipman, a romantic rival, in February 2007.
Police said Nowak drove across the United States to confront her rival for the love of a space shuttle pilot, Bill Oefelein.
Nowak eventually pleaded guilty to third-degree felony burglary and misdemeanour battery in a deal with prosecutors.