BBC Steinhoeft freighter blocks St Lawrence seaway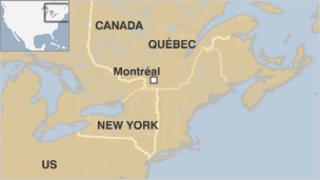 A 138m (453ft) freighter has been freed after running aground in the St Lawrence Seaway, which runs along the US-Canada border, and blocking passage for several hours.
The BBC Steinhoeft veered off course at Montreal, snarling traffic between the Great Lakes and the Atlantic for 10 hours before tugboats dislodged it.
The ship is 138m (453ft) long - the same width as the canal, a spokesman for the seaway corporation said.
At least five other ships were delayed.
No pollution and no injuries were reported, and the vessel was being towed to the Port of Montreal for a dive inspection below the waterline, seaway officials said in a statement.
The Liberian-flagged vessel was bound for Philadelphia in the US.