New Orleans officers sentenced in Katrina death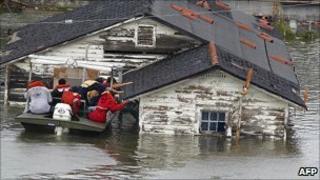 Two former New Orleans police officers have been sentenced to lengthy prison terms for their roles in a shooting death after Hurricane Katrina.
David Warren, who was convicted in December of manslaughter in the shooting of 31-year-old Henry Glover, was sentenced on Thursday to 25 years.
Gregory McRae, convicted of burning Mr Glover's body, received 17 years.
As many as 20 New Orleans officers have been charged with abuses in the aftermath of the 2005 hurricane.
"Instead of upholding their oath to protect and serve the people of New Orleans in the days after Hurricane Katrina, these officers abused their power, and violated the law and the public trust," Thomas Perez, assistant attorney general for the civil rights division, said in a statement.
"Today's sentence brings a measure of justice to the Glover family and to the entire city."
After the storm in August 2005, large swathes of the Louisiana city were flooded and thousands of desperate people were trapped.
Fear
Warren, who went on leave the police force in 2008, had been guarding a shopping mall a few days after the storm.
Prosecutors said he shot Mr Glover without justification. At trial, Warren said he thought Mr Glover had been armed and that he feared for his life.
He was convicted of a civil rights violation and of using a firearm to commit manslaughter.
McRae admitted at trial he set a car on fire with Mr Glover's body in it, telling the court he did not want to see more corpses rot in New Orleans.
He left the department in December, and was convicted of two civil rights violations, one count of obstructing justice and one count of using fire during the commission of a felony
Lawyers for the former officers argued they deserved leniency because of the chaos and horrific conditions in which they worked in the days after the storm.
Last year, New Orleans Mayor Mitch Landrieu described the city's police department as "one of the worst" in the country, and asked the US government to aid reform efforts.