Ohio passes bill restricting public worker rights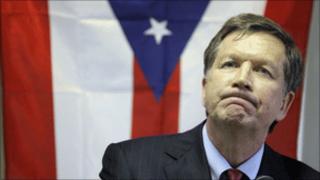 Legislators in the US state of Ohio have passed a bill that will severely limit the collective bargaining rights of public sector workers.
The bill, which will affect teachers, nurses and other government workers, will allow unions to negotiate wages but not healthcare or other benefits.
Republican Governor John Kasich signed it into law on Thursday.
He says the measure, which has sparked weeks of pro-labour protests in Ohio, is needed to close a big budget gap.
Earlier this month, tens of thousands of people demonstrated in Wisconsin against similar legislation limiting collective bargaining rights.
A judge in Wisconsin has blocked the implementation of that bill while she considers legal challenges against it.
Ohio's bill was passed by the state Senate by 17 votes to 16 on Wednesday, hours after it was approved in the state House by 53 votes to 44.
While unions will be able to negotiate on pay, they will not be able to do the same over health coverage or pension benefits. Workers will also have automatic pay increases taken away and be barred from striking.