Obama authorises covert aid to Libyan rebels - reports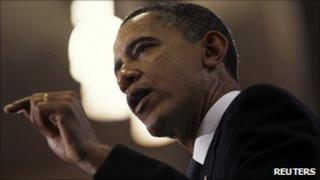 US President Barack Obama has secretly authorised covert assistance to rebels seeking to overthrow Libyan leader Col Muammar Gaddafi, US media reports say.
He recently signed a document known as a "finding", allowing support to the rebel groups, Reuters news agency and ABC News said.
Such "findings" are a common way for the president to authorise covert operations by the CIA.
The CIA and White House have both declined to comment on the reports.
White House spokesman Jay Carney said: "I will reiterate what the president said yesterday - no decision has been made about providing arms to the opposition or to any group in Libya. We're not ruling it out or ruling it in.
"We're assessing and reviewing options for all types of assistance that we could provide to the Libyan people, and have consulted directly with the opposition and our international partners about these matters."
The latest reports come amid an ongoing debate about the legality of arming the forces opposed to Col Gaddafi, the BBC's Steve Kingstone in Washington says.
Mr Obama has said publicly the US has not ruled out arming the rebels. He has pledged US troops will not join the effort to eject Col Gaddafi.
'Intelligence gathering'
The New York Times, citing American officials, said on Wednesday that the CIA has had operatives on the ground in Libya for several weeks. They are said to be gathering intelligence for air strikes and making contact with the forces fighting Col Gaddafi.
The newspaper says British intelligence and special forces are also involved.
The Associated Press news agency, quoting a US official and former US intelligence officer, said small teams of CIA operatives had been sent into Libya after the agency's station in the capital, Tripoli, was forced to close.
Some of those operatives had been involved in rescuing the crew of an F-15E Eagle warplane that crashed in Libya a week ago, AP said.
Meanwhile, US officials told the Washington Post newspaper that CIA operatives had been sent in to gather intelligence on the identity, aims and progress of the forces opposing Col Gaddafi.
In interviews with US television networks on Tuesday, Mr Obama spoke of applying "steady pressure, not only militarily but also through these other means" to encourage Col Gaddafi to step down.
He said the US had not decided whether or not to provide arms to Libyan rebels in the future.
"It's fair to say that if we wanted to get weapons into Libya, we probably could. We're looking at all our options at this point," he told ABC News.